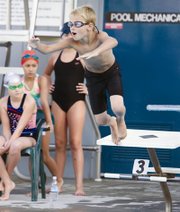 Sunnyside's girls outscored their counterparts from Prosser by a 222-point margin last night, leading the Sharks to a tightly contested 426.5-390.5 win over the visiting Piranhas.
Tuesday evening's victory improved the Sunnyside summer swim team's overall record on the season to 5-1.
In outscoring Prosser's girls by a 314.5-92.5 margin last night, Sunnyside's female contingent was led by the three Broersma sisters, as well as Katelyn Banks, Aydan Harrington and Ashlee Maldonado.
The three Broersmas - Kaitlyn (18&U), Marisa (16&U) and Brittany (14&U) - were in on a combined 17 victories.
Banks, competing at 12&U, won the 50-meter backstroke and 200-meter IM. She also swam the backstroke leg on the winning 200-meter medley relay squad in her age division.
Harrington won all four girls 10&U 50-meter races. She also was a member of both the winning 200-meter medley and freestyle relay squads in her age bracket.
Maldonado, a girls 8&U swimmer, captured top honors in the 50-meter butterfly and backstroke events.
The only Prosser girls to notch individual race victories last night were Leah Blakney in the 10&U, 200-meter IM; Makensie Forsyth in the 12&U, 50-meter fly; and Hanna Rankin in the 18&U, 50-meter backstroke.
Prosser's boys out-pointed Sunnyside's boys 298-112. The Piranhas got four individual race victories from Scott Blakney at 10&U and from Sam Kawakami at 12&U. Nailing down five individual race wins apiece for the Piranhas were William Burgett (14&U), Chris McKinney (16&U) and Tyler Burgett (18&U).
The Sharks are scheduled to take on the Dolphins in Selah's pool this coming Thursday. Sunnyside bested Selah's swim team by a 175-point margin in the two clubs' first match-up of the season three weeks ago.
Prosser 390.5 - Sunnyside 426.5
GIRLS 8&UNDER
50-Meter Butterfly
1st-Ashlee Maldonado (S) 1:01.56, 2nd-Janessa Frank (S) 1:16.84, 3rd-Jenna Knight (P), 4th-Allison Davis (S)
50-Meter Breaststroke
1st-Allison Davis (S) 1:08.78, 2nd-Bailey Hazzard (S) 1:09.65, 3rd-(tie) Emily Villarreal (P) & Janessa Frank (S)
50-Meter Backstroke
1st-Ashlee Maldonado (S) 1:07.12, 2nd-Gentri Gray (S) 1:08.91, 3rd-Jenna Knight (P), 4th-Arizona Rodriguez (S)
50-Meter Freestyle
1st-Janessa Frank (S) 53.72, 2nd-Gentri Gray (S) 56.06, 3rd-Ashlee Maldonado (S), 4th-Allison Davis (S)
BOYS 8&UNDER
50-Meter Butterfly
1st-Kord Tuttle (P) 1:06.71, 2nd-Johnny Heffron (S) 1:20.81, 3rd-Johnny Mullen (P), 4th-Parker van de Graaf (S)
50-Meter Breaststroke
1st-Johnny Heffron (S) 1:05.46, 2nd-Kord Tuttle (P) 1:26.12, 3rd-Parker Van de Graaf (S), 4th-Christopher Lane (P)
50-Meter Backstroke
1st-Parker Van de Graaf (S) 1:11.14, 2nd-Kord Tuttle (P) 1:18.59, 3rd-Johnny Heffron (S), 4th-Johnny Mullen (P)
50-Meter Freestyle
1st-Kord Tuttle (P) 51.50, 2nd-Johnny Heffron (S) 1:02.80, 3rd-Parker Van de Graaf (S), 4th-Johnny Mullen (P)
GIRLS 10&UNDER
200-Meter Medley Relay
1st-Sunnyside (E. Maldonado, E. Banks, J. Mendoza, A. Harrington) 3:43.65
50-Meter Butterfly
1st-Aydan Harrington (S) 48.12, 2nd-Emilee Maldonado (S) 56.06, 3rd-Leah Blakney (P), 4th-Hunter Perez (S)
50-Meter Breaststroke
1st-Aydan Harrington (S) 55.90, 2nd-Leah Blakney (P) 56.13, 3rd-Johnna Markus (P), 4th-Emily Banks (S)
50-Meter Backstroke
1st-Aydan Harrington (S) 54.87, 2nd-Emily Banks (S) 57.00, 3rd-Sadie Salas (S), 4th-Jamie Fassler (P)
50-Meter Freestyle
1st-Aydan Harrington (S) 41.50, 2nd-Leah Blakney (P) 44.18, 3rd-Johnna Markus (P), 4th-Emily Banks (S)
200-Meter Freestyle Relay
1st-Sunnyside (E. Banks, J. Mendoza, E. Maldonado, A. Harrington) 3:15.65
200-Meter Individual Medley
1st-Leah Blakney (P) 4:13.16, 2nd-Emilee Maldonado (S) 4:37.88, 3rd-Emily Banks (S), 4th-Sadie Salas (S)
BOYS 10&UNDER
200-Meter Medley Relay
1st-Prosser (A. Salinas, S. Blakney, L. Russell, C. Baker) 3:56.75
50-Meter Butterfly
1st-Scott Blakney (P) 53.10, 2nd-A. Heffron (S) 58.23, 3rd-Levi Russell (P), 4th-Bryce Murphy (S)
50-Meter Breaststroke
1st-Scott Blakney (P) 57.79, 2nd-Jacob Mendoza (S) 58.78, 3rd-Levi Russell (P), 4th-Camden Baker (P)
50-Meter Backstroke
1st-Levi Russell (P) 52.81, 2nd-Bryce Murphy (S) 53.41, 3rd-Scott Blakney (P), 4th-Adrian Heffron (S)
50-Meter Freestyle
1st-Scott Blakney (P) 40.50, 2nd-Adrian Heffron (S) 40.65, 3rd-Levi Russell (P), 4th-Patrick Zecchino (S)
200-Meter Freestyle Relay
1st-Prosser (S. Blakney, A. Salinas, C. Baker, L. Russell) 3:17.13
200-Meter Individual Medley
1st-Scott Blakney (P) 4:02.46, 2nd-Levi Russell (P) 4:20.49, 3rd-Jacob Mendoza (S), 4th-Bryce Murphy (S)
GIRLS 12&UNDER
200-Meter Medley Relay
1st-Sunnyside (K. Banks, K. Bestebreur, P. Sample, L. Schilperoort) 3:02.78
50-Meter Butterfly
1st-Makensie Forsyth (P) 41.00, 2nd-Payton Sample (S) 41.37, 3rd-Annie Brouwer (P), 4th-Lindsay Schilperoort (S)
50-Meter Breaststroke
1st-Heidi Vergara (S) 51.08, 2nd-Katelyn Banks (S) 52.09, 3rd-Kalie Bestebreur (S), 4th-Kaylee Perkins (P)
50-Meter Backstroke
1st-Katelyn Banks (S) 47.06, 2nd-Lindsay Schilperoort (S) 48.44, 3rd-Makensie Forsyth (P), 4th-Jaiden Hamilton (P)
50-Meter Freestyle
1st-Payton Sample (S) 38.40, 2nd-Annie Brouwer (P) 38.65, 3rd-Makensie Forsyth (P), 4th-Jaiden Hamilton (P)
200-Meter Freestyle Relay
1st-Prosser (A. Brouwer, J. Fool, M. Forsyth, J. Hamilton) 2:44.46
200-Meter Individual Medley
1st-Katelyn Banks (S) 3:41.75, 2nd-Makensie Forsyth (P) 3:42.46, 3rd-Lindsay Schilperoort (S), 4th-Annie Brouwer (P)
BOYS 12&UNDER
200-Meter Medley Relay
1st-Sunnyside (C. Murphy, T. Frank, F. Rodriguez, A. Perez) 3:09.96
50-Meter Butterfly
1st-Sam Kawakami (P) 42.72, 2nd-Deyton Cleveringa (P) 45.66, 3rd-Alex Perez (S), 4th-Fox Rodriguez (S)
50-Meter Breaststroke
1st-Christopher Martin (S) 26.50, 2nd-Sam Kawakami (P) 44.63, 3rd-Trajen Frank (S), 4th-Fox Rodriguez (S)
50-Meter Backstroke
1st-Sam Kawakami (P) 45.90, 2nd-Deyton Cleveringa (P) 49.58, 3rd-Riley Lusk (P), 4th-Alex Perez (S)
50-Meter Freestyle
1st-Sam Kawakami (P) 34.59, 2nd-Riley Lusk (P) 37.43, 3rd-Alex Perez (S), 4th-Deyton Cleveringa (P)
200-Meter Freestyle Relay
1st-Prosser (D. Cleveringa, S. Kawakami, R. Lusk, I. Sanders) 2:43.53
200-Meter Individual Medley
1st-Sam Kawakami (P) 3:39.07, 2nd-Fox Rodriguez (S) 3:53.09, 3rd-Alex Perez (S), 4th-Deyton Cleveringa (P)
GIRLS 14&UNDER
200-Meter Medley Relay
1st-Sunnyside (A. Newhouse, T. Van Corbach, B. Broersma, M. Marquez) 2:47.53
50-Meter Butterfly
1st-Tara Van Corbach (S) 39.59, 2nd-Brittany Broersma (S) 39.75, 3rd-Alexandra Newhouse (S), 4th-Madi Marquez (S)
50-Meter Breaststroke
1st-Brittany Broersma (S) 44.15, 2nd-Tara Van Corbach (S) 47.56, 3rd-Alexandra Newhouse (S), 4th-Madi Marquez (S)
50-Meter Backstroke
1st-Brittany Broersma (S) 40.87, 2nd-Madi Marquez (S) 44.90, 3rd-Gabby Villarreal (P), 4th-Camlle Kawakami (P)
50-Meter Freestyle
1st-Brittany Broersma (S) 32.72, 2nd-Madi Marquez (S) 33.87, 3rd-Camlle Kawakami (P), 4th-Tara Van Corbach (S)
200-Meter Freestyle Relay
1st-Sunnyside (M. Marquez, T. Van Corbach, A. Newhouse, B. Broersma) 2:24.68
200-Meter Individual Medley
1st-Brittany Broersma (S) 3:13.56, 2nd-Madi Marquez (S) 3:29.46, 3rd-Tara Van Corbach (S), 4th-Madison Zimmermann (P)
BOYS 14&UNDER
200-Meter Medley Relay
1st-Prosser (A. Dennis, E. Blakney, W. Burgett, C. Baker) 2:51.13
50-Meter Butterfly
1st-William Burgett (P) 33.59, 2nd-Chase Baker (P) 39.70, 3rd-Tad Tyhuis (S), 4th-Nickolas Ramirez (S)
50-Meter Breaststroke
1st-William Burgett (P) 40.84, 2nd-Chase Baker (P) 43.28, 3rd-Eric Blakney (P), 4th-Tad Tyhuis (S)
50-Meter Backstroke
1st-William Burgett (P) 40.90, 2nd-Tad Tyhuis (S) 41.12, 3rd-Nickolas Ramirez (S), 4th-Chase Baker (P)
50-Meter Freestyle
1st-William Burgett (P) 31.38, 2nd-Tad Tyhuis (S) 35.16, 3rd-Chase Baker (P), 4th-Eric Blakney (P)
200-Meter Freestyle Relay
1st-Prosser (C. Baker, E. Blakney, W. Burgett, T. Hobbick) 2:38.37
200-Meter Individual Medley
1st-William Burgett (P) 3:09.75, 2nd-Tad Tyhuis (S) 3:35.16, 3rd-Chase Baker (P), 4th-Eric Blakney (P)
GIRLS 16&UNDER
50-Meter Butterfly
1st-Marisa Broersma (S) 35.96, 2nd-Kristen Wedam (S) 38.71, 3rd-Kelley Bridges (S), 4th-Alissa Martin (S)
50-Meter Breaststroke
1st-Marisa Broersma (S) 40.85, 2nd-Alissa Martin (S) 47.31, 3rd-Kendra Hollmeyer (S)
50-Meter Backstroke
1st-Marisa Broersma (S) 40.00, 2nd-Alissas Martin (S) 41.84, 3rd-Kendra Hollmeyer (S)
50-Meter Freestyle
1st-Marisa Broersma (S) 31.75, 2nd-Alissa Martin (S) 35.03, 3rd-Kendra Hollmeyer (S)
200-Meter Individual Medley
1st-Marisa Broersma (S) 2:58.40
BOYS 16&UNDER
50-Meter Butterfly
1st-Chris McKinney (P) 31.28, 2nd-Cristian Vargas (S) 32.84, 3rd-Nolan Saam (P), 4th-Grant Stutesman (S)
50-Meter Breaststroke
1st-Chris McKinney (P) 37.31, 2nd-Nolan Saam (P) 37.59, 3rd-Cristian Vargas (S), 4th-William Lane (P)
50-Meter Backstroke
1st-Chris McKinney (P) 35.50, 2nd-Cristian Vargas (S) 36.97, 3rd-Nolan Saam (P), 4th-Grant Stutesman (S)
50-Meter Freestyle
1st-Chris McKinney (P) 27.75, 2nd-Nolan Saam (P) 32.00, 3rd-Cristian Vargas (S), 4th-William Lane (P)
200-Meter Individual Medley
1st-Chris McKinney (P) 2:58.18, 2nd-Cristian Vargas (S) 3:01.19, 3rd-Nolan Saam (P), 4th-Grant Stutesman (S)
GIRLS 18&UNDER
200-Meter Medley Relay
1st-Sunnyside (K. Wedam, K. Broersma, M. Broersma, A. Martin) 2:30.69
50-Meter Butterfly
1st-Kaitlyn Broersma (S) 33.63, 2nd-Hanna Rankin (P) 35.94, 3rd-Taylor Ely (P), 4th-Megan Tyler (S)
50-Meter Breaststroke
1st-Kaitlyn Broersma (S) 37.93, 2nd-Bre Beierle (P) 42.59, 3rd-Megan Tyler (S), 4th-Taylor Ely (P)
50-Meter Backstroke
1st-Hanna Rankin (P) 36.05, 2nd-Kaitlyn Broersma (S) 36.78, 3rd-Taylor Ely (P), 4th-Megan Tyler (S)
50-Meter Freestyle
1st-Kaitlyn Broersma (S) 31.22, 2nd-Hanna Rankin (P) 33.89, 3rd-Taylor Ely (P), 4th-Megan Tyler (S)
200-Meter Freestyle Relay
1st-Sunnyside (M. Broersma, A. Martin, M. Tyler) 2:15.57
200-Meter Individual Medley
1st-Kaitlyn Broersma (S) 2:58.34, 2nd-Hanna Rankin (P) 3:08.83, 3rd-Taylor Ely (P), 4th-Megan Tyler (S)
BOYS 18&UNDER
200-Meter Medley Relay
1st-Prosser (T. Burgett, N. Saam, W. Lane, B. Hobbick) 2:16.73
50-Meter Butterfly
1st-Tyler Burgett (P) 27.81, 2nd-Branden Hobbick (P) 30.62, 3rd-Charles McClammer (P)
50-Meter Breaststroke
1st-Tyler Burgett (P) 34.74, 2nd-Branden Hobbick (P) 41.00, 3rd-Charles McClammer (P)
50-Meter Backstroke
1st-Tyler Burgett (P) 35.19, 2nd-Branden Hobbick (P) 36.07, 3rd-Charles McClammer (P)
50-Meter Freestyle
1st-Tyler Burgett (P) 28.93, 2nd-Branden Hobbick (P) 29.41, 3rd-Charles McClammer (P)
200-Meter Freestyle Relay
1st-Prosser 2:06.19
200-Meter Individual Medley
1st-Tyler Burgett (P) 2:49.69, 2nd-Branden Hobbick (P) 2:55.53