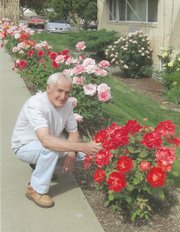 There may be budget constraints and other issues facing Sunnyside City Hall, but at least one resident is aiming for things to come up roses for the city.
Jon Nelson owns the Harrison Heights apartments on Grandview Avenue in Sunnyside and he hopes to start a movement to have the rose named the official flower for the city of Sunnyside.
Nelson says that's because every one of all backgrounds and ethnic groups can all get excited about flowers.
"One thing that brings people together is flowers, particularly roses," he said.
"It's a way to bring the community a little closer together," Nelson added. "Sunnyside needs a source of pride."
Nelson has seen firsthand the color and beauty roses can bring to a property and a city. The front of his apartment complex facing Grandview Avenue is lined with roses, which are gearing up for their second blooming.
"I wanted to add some color in front of the apartment building," he said.
Nelson's dream goes far beyond anointing the rose as the city's official flower.
He envisions a median on a stretch of Edison Avenue from Yakima Valley Highway to Fourth Street filled with roses.
He'd like to see city streets climbing up along Harrison Hill, such as Swan Road, Grandview Avenue, Stackhouse Drive, Sunnyside Avenue and Riverside Avenue, lined on either side with roses.
Nelson's dream doesn't end there, as a four-acre rose garden, old fashioned street lights downtown and perhaps even a rose named for Sunnyside are part of his goal for the city.
Nelson isn't wearing rose-colored glasses in this pursuit, though. He knows times are tough.
"(The city of) Sunnyside is not in a position to do everything," he says. "It'll take volunteers and property owners."
As a result, Nelson is hoping for a series of smaller steps leading to an eventual rose-filled Sunnyside.
It all starts with going before the city council - which he plans to do soon - and petition for the rose to be the city's official flower.
Following that, he hopes to see the city form a garden society or rose club to coordinate the volunteer effort.
The city's part besides calling the rose Sunnyside's official flower, Nelson feels, could be to provide the right-of-way for the median on a portion of Edison.
Besides the aesthetic appeal of having an abundance of roses in Sunnyside, Nelson sees some economic benefit.
Noting Portland's rose garden draws 500,000 visitors a year, Nelson feels there could be the potential for Sunnyside to draw thousands of tourists for the roses and the four-acre rose garden he envisions.
Nelson is dreaming big he knows. But that's nothing new for him.
Besides having geography on his side for naming Sunnyside a rose city for Washington - the soil and climate of the Lower Valley make it a prime location - Nelson says he has history on his side, too. In a 1907 article from The Sunnyside Sun, writer F.K. Spalding extolled the quality and quantity of roses in Sunnyside. He called Sunnyside the "Rose City of Washington."
Spalding was enthusiastic in the article about Sunnyside's rose appeal.
"Sunnyside need not take a back seat, as many people who have traveled in all the western states say they never have seen finer roses than those grown here," Spalding wrote. "In my own travels I have not seen as fine. We are proud of our roses and the interest people are taking in them."
Nelson shares Spalding's grand visions for Sunnyside as a rose city.
"It's an ambitious project," he smiled. "But I've never been accused of dreaming small."