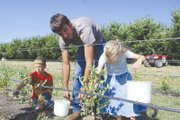 GRANDVIEW - Having fresh fruit on hand is commonplace for most Lower Valley residents. Fresh blueberries can now be added to that list.
Grandview's Bill and Julie Michener have made that possible with their new venture. The couple and their eight children planted three varieties of blueberries consisting of 12,000 bushes on their farm just last August.
"We wanted to get our younger children involved in the farm operations," said Mrs. Michener, stating her older children work in the family's cherry orchards and other operations.
Last year, the Micheners were seeking to grow a crop that is not already a mainstay in the Lower Valley. Mrs. Michener said her research led her to believe blueberries would fill a niche in the local agricultural community.
It isn't just about business for the Michener family, though. She said the farm wants to serve other families, providing them with the experience of spending time on a farm.
"We want our farm to be a family destination," Mrs. Michener said, stating youngsters visiting the farm with their parents can learn the food in the refrigerator didn't just come from the market.
Bill's Berry Farm, located north of Grandview at 3674 N. County Line Rd., also offers cherries. It is a u-pick/we-pick operation. Those seeking to pick their own blueberries are charged a mere 75 cents per pound. Cherries are sold at $3 per pound for we pick and u-pick cherries are $1 per pound.
This season is the first crop of blueberries, which are certified organic and the Micheners feel that designation will appeal to fruit lovers everywhere.
"There are so many unknowns anymore and this provides people with a sense of security, knowing where their fruit comes from as well as knowing it is safe to eat," said Mrs. Michener.
As the family farm grows, the Micheners also want to add a store and activities that appeal to families.
Mrs. Michener has advertised the farm's blueberries and cherries, and she sent out a number of emails to a list of established friends statewide.
"It's amazing how much response there has been," she said, stating she has been filling orders for cherries. She hopes to add blueberries to the orders next year.
In the meantime, the blueberries that have grown this year are expected to be available for another two to three weeks and visitors have traveled from near and far to take advantage of the fruit, which was first picked this past Saturday.
The cherries, on the other hand, are going fast and Mrs. Michener predicts visitors to the farm will only be able to get them for another week and a half.
"The goal is to provide people with fresh fruit and a good family experience," Mrs. Michener said of the operation.
Those venturing out to the farm can do so Tuesdays from 5 to 8 p.m., Fridays from 8 a.m. to 8 p.m. or Saturdays from 8 a.m. to 6 p.m.
Bring your own box. The Michener's will provide picking buckets.