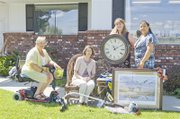 Lower Valley Hospice and Palliative Care is gearing up for its annual benefit dinner and auction, scheduled for July 25 at St. Joseph Parish Center, 907 S. Sixth Street in Sunnyside.
Lower Valley Hospice and Palliative Care, which is celebrating 31 years of existence relies on this annual fund raising dinner and auction to provide for costs not covered by Medicare, Medicaid or private insurance, said Carol Bos.
"There are limited funds available for pediatric and adult palliative care patients with life threatening and terminal disease process," Bos said. "Help us meet their needs with your community support and donations. Your help, by attending, will provide care for all of our patients."
Doors open with the silent auction at 5 p.m. and a buffet tropical dinner prepared by Bon Vino's Bistro & Bakery will follow. Live music will be provided by The Musical Revue.
Many items have already been collected and include a Fairmont Hotels & Resorts package with round-trip airfare for two for four nights, gravel certificates, yard and garden equipment, tools, flowers and shrubs, wine packages, service certificates, a fishing trip, craft items and much, much more.
To purchase tickets, visit the website at www.lowervalleyhospice.org and click on the events link.
Tickets can also be purchased at the office at 3920 Outlook Road in Sunnyside or by calling 837-1676.
Ticket cost is $40 per individual, $75 per couple and $280 for a friendship table for 8. At the door, individual tickets cost $45.