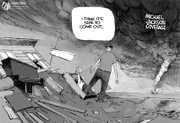 It seems to be universal...we are eager to leave our hometowns as youngsters and once we have done so there is a level of feeling homesick.
That was true of my days growing up in the Mt. Shasta, Calif. area. I used to dream of living somewhere more exotic or somewhere that I wouldn't need to travel to do my shopping.
Since those days I have lived in the "big city" and found there was no comparison to living in a small town. That is one reason I appreciate the Lower Valley.
There is still, however, a yearning for my hometown. I grew up with the ability to "lose myself' in the forested areas surrounding my home. There was a sense of security in knowing most of the town knew who I was and they would look out for me.
Living here, there is much of the same feeling. I know when I go out I am likely to see someone I know. I know my children have several "eyes" watching out for them.
Last week I had the opportunity to take my children to the Mt. Shasta area. We stayed with my aunt and uncle, who live out "in the country."
I was able to share some of my childhood memories as we ventured through the nearby forest, which leads to my paternal grandparents' home. The swimming hole I once frequented is also near both family homes.
We visited a nearby state park, and the youngsters took a sampling of the mineral water. They immediately spit it out as it has both a sulfuric smell and taste.
Later, we had fun at the swimming pool where I learned to hold my breath under water and dive. My youngest particularly enjoyed the little pool as he played "Sharks and Minnows" with his newfound friends.
I particularly enjoyed the opportunity to see their eyes light up as they looked out upon the lake I frequented as a youngster. There, they were able to watch as fireworks lit the sky and the water.
We also visited several people still living in the area. It fascinated my children that these people knew me as a baby.
One family, who lives behind my grandmother, surprised the three youngsters when sharing they immediately knew who was visiting. My children preceded me as they climbed the steps leading to the front door. And, the members of this family knew "Jennifer must be here."
My children didn't understand how the family knew, without seeing me, who was visiting until one of the women told the youngsters they all look so much like me.
It felt good to be "home." It felt good surprising old friends with my presence, knowing they have missed me as much as I have missed them. The excitement of seeing familiar faces and sharing our lives with one another, even if only briefly, was something to cherish.
Sharing my memories with my children, I realized I was creating new memories for all of us. They were learning what I took for granted so many years ago. I was learning that no matter how much everything changes, they will always be the same to me. Moments shared and stored away in my memory will always be precious.
Now, to keep the kids from asking again, "Why can't we live in Mt. Shasta?"