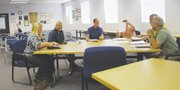 Looking for ways in which it might better serve the community and its youth, Sunnyside Transformation Lower Valley a couple of months ago began forming partnerships with various organizations in the community.
Executive Director Roberto Matus said the Northwest Community Action Center obtained $1.5 million in funding to provide youth ages 16 to 21 with employment opportunities.
That organization, however, did not have the resources to provide supervision. Sunnyside Transformation Lower Valley does.
That started a new program aptly named Loving Sunnyside Initiative.
With the new program, Matus' organization looked to others in the community willing to work toward sprucing up neighborhoods and homes. Sunnyside Transformation Lower Valley gained the participation of the city of Sunnyside, Sunnyside Chamber of Commerce, WorkSource and Sunnyside's Promise to spearhead the Loving Sunnyside Initiative program.
Through a cooperative effort of the various organizations, Matus said he believes approximately 120 youth will be able to participate in the program. Those youth will gain job skills and will be paid minimum wage for their work.
Initially, the focus was to clean-up neighborhoods throughout Sunnyside in different phases. That plan changed and the program is now focused on various homes in need of a little loving care.
"The goal is to clean-up and paint homes in the community that are in need of a little work," said Matus.
The organizations together have five homes listed for the project and are hoping five more will be added before the initial clean-up day.
Matus said those involved in the Loving Sunnyside Initiative will work with the youth two days this month, Wednesday, July 15, and Monday, July 20. He said the hope is to further efforts, expanding the program on an ongoing basis.
Youth wanting to participate in the program can apply at the Northwest Community Action Center. They can do so by calling 837-5371.
Also, volunteers for the program are needed for a variety of purposes. They can provide supervision, transportation, refreshments or work directly at each site.
Businesses can help with the donation of refreshments, snacks or materials and tools for the projects.
"We want this to be the initial step toward progress that will last years to come," said Matus, stating anyone can become actively involved in helping the community.
He said lawnmowers are needed, as are rakes and other tools, but the most important aspect of the project is community support.
"This is a way we can all work together to make our community better," said Matus.
He said anyone wanting more information can call him at 305-1956 or email him at info@styv.org.
Volunteers for the program will meet at Sunnyside Christian High School at 7 a.m. July 15 and 20 for breakfast and assignments. Lunch will also be provided at each work site.