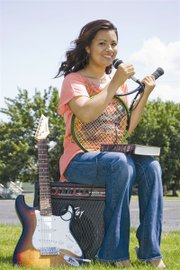 When Claudia Gonzalez was mulling a talent to perform, it only made sense the Miss Sunnyside candidate would pour her passion into her pen and write a song.
Her song is called "Never Give Up" and it's a testament to her life.
"It talks about my past and how I've learned to overcome my problems," she says, adding with a smile, "And to never give up."
Gonzalez has a long history of expressing herself through writing. She loves writing poetry and songs for her church.
"Usually I try to think of rhythm and tone, a general tone for the song. Then I just go with whatever inspires me."
Gonzalez will also play the guitar, something she's just now learning to do.
"I barely picked it up. I always wanted to do it, so I decided to do it now."
Gonzalez's life is a good example of perseverance and determination after surviving domestic violence. She never gave up and she wants others to be encouraged to hang in there. That's why if she's selected to serve as Miss Sunnyside her community service project will be working with Lower Valley Crisis and Support Center.
"It's something I'm really passionate about," she says. "I'll be able to (volunteer) with all of my heart and be so dedicated to it."
Her number one priority through her service project is to spread awareness about different types of abuse.
"It's not just physical," she says. "There is mental and verbal abuse, too."
Gonzalez wants to work with secondary victims. She wants to serve as an advocate, too.
She learned about the crisis center when representatives came to her church and gave a presentation.
"We are going to volunteer whether it's through Miss Sunnyside or not," says Gonzalez.
When she says "we" she's referring to her grandmother, Maria Valle, and her big sister Madonna. She holds her family dear, as well as her faith community.
"I would have to say that everything I do is based on (faith)...I'm really into it and being a good role model at church and outside church, too."
Her love for God is obvious in her singing, as well. "It's really a chance to praise God and get out your world problems and be different, feel different."
Gonzalez is already mulling her future plans after high school.
"I've always wanted to be a missionary," she says, noting she wants to go on her church's next mission trip next year. "I need grandma's permission first," she says with a laugh.
Gonzalez views the Miss Sunnyside crown as a chance to get more plugged into her community, a way to connect.
"I think it's a way to get in touch with the community. I always want to be a positive role model for others, learn from others and in general, be able to grow as a person," she says.
Gonzalez's sponsors for the Miss Sunnyside Pageant include Guerra's Deli & Café and Fashion Corner.