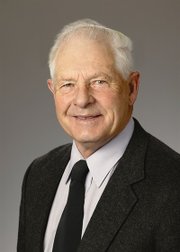 The end of June, longtime Lower Yakima Valley community and dairy industry leader Bob Golob retired from the Washington Dairy Products Commission Board after 24 years of service.
Golob, who represented dairy producers in District II (Benton, Chelan, Douglas, Franklin, Grant, Kittitas, Clickitat, Walla Walla and Yakima counties), chose to retire from the board at the end of a one-year term as board chair, a position Golob held several times during his service.
He has been replaced on the Washington Dairy Products Commission Board by Sunnyside native Genny DeRuyter. She and her husband Jake DeRuyter operate a dairy on Fordyce Road.
In addition to serving on the dairy products commission board for 24 years, Golob has applied his vast practical and business knowledge and leadership abilities to serve on many other boards, including the boards that oversee the Washington State Dairy Federation, the Central Washington State Fair, Home Security Bank, American West Bancorp, Sunnyside Valley Irrigation District, the Roza-Sunnyside Joint Board of Control and the Washington Dairy Herd Improvement Association.
He, too, is active in the Outlook Grange and in his church, Our Lady of Guadalupe.
Golob's work on and off the farm has not gone unnoticed. He is the recipient of numerous awards, including the Mel Ehlers Distinguished WSU Dairy Booster (1988), Washington State Dairy Federation President's Award (1991), Department of Ecology recognition for contribution to clean water and for his dairy management practices (1999), Washington State Dairy Federation President's Hall of Fame (2000) and various awards recognizing his service as president of several organizations.
Golob, with Edna, his wife of 55 years, and four of their six children ? Paul, Keith, Kevin and Jeff ? operate a 1,000-cow dairy near Granger. The Golobs farm more than 380 acres on which they raise alfalfa, sudan grass and triticale.
On Golob's retirement, Washington Dairy Products Commission General Manager Steve Matzen states, "All those who have had the honor and pleasure of working with Bob congratulate him on his long and distinguished service to community and to the hardworking dairy producers of Washington state.
"Although we will miss Bob, we are grateful for his many valuable contributions, and we are honored to have had the opportunity to work with him and learn from him," Matzen added.