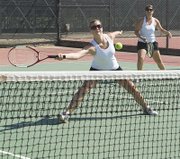 Despite high temperatures this past weekend approximately 50 athletes competed in the Cancer Society Benefit Tennis Tournament, sponsored by the Sunnyside Tennis Club.
The tournament drew several players from outside Sunnyside, mostly from the Valley.
"It went real well," tournament director Macario Solis said. "We had some real good matches. It was nice to see that competition. We had players from all over so we got to see some matches we don't normally see."
Solis said the benefit tournament raised more than $700 for the American Cancer Society.
In the men's 4.0-4.5 singles class, Steve Diaz defeated Alfredo Cardenas 7-6, 7-5 to claim the championship. Diaz got past Doug Thomas in the semi-finals and Cardenas beat Ryan Leija to advance to the finals. In the consolation bracket Vince Castro defeated Thomas Lewis 6-0, 6-1.
Don Judy claimed the title in the men's 3.5 singles. He beat Jun Gapuz 6-1, 6-1 in the semi-finals to set up a championship match with Johnny Olsen, who beat Dick Schilproort in the semis. Judy defeated Olsen 6-2, 6-2 in the finals.
In the men's 3.5 consolation match Jeromy Rodriguez received an injury default win due to an injury to his opponent, Dave Roberts.
The team of Danny Mullins and Chris Clark held off Alfredo Cardenas and Vince Castro in the finals of the men's open doubles competition with a 6-4, 7-5 score. Raul Castro and Charlie Diaz got the better of Anthony Rodriguez and Jorge Pacheco in the consolation round, beating them 6-0, 7-5.
The toughest match of the tournament was in the mixed doubles bracket. Mother and son team Johnny Plesha and Alenka Plesha lost a heartbreaking match to mother and son team Betsy Dunbar and Cody Dunbar 6-4, 2-6, 7-5 in the finals.
In the women's open singles bracket Betsy Dunbar defeated Renee Houske 6-1, 6-2 to claim the championship. Dunbar beat Regina Mendez 6-2, 6-1 to get to the finals. Houske beat Isabel Castro 6-1, 6-0 to earn her ticket to the championship round.
The team of Erica Mendez and Jerika Martinez got past Karlee Harris and Apryl Sellers 6-4, 6-2 to win the women's open doubles competition. Mendez/Martinez beat Lana Pangle and Delores Gomez 6-2, 6-3 in the semis. Sellers/Harris got past Peggy Keleher and Liz Roberts to earn their way to the championship match.
"We had some good finals," Solis added.
The three-day tournament was the last to be held this year by the Sunnyside Tennis Club.