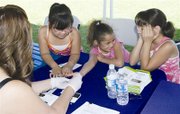 GRANDVIEW - A health fair held this past Saturday in Grandview brought together more than 20 different agencies that can offer citizens much needed resources.
Sponsored by the Fred Hutchinson Cancer Research Center, Monica Escareno, a health care educator for the Center for Hispanic Health Promotion, said the goal of the fair was to get people interested and informed of the various resources available to them.
Held at the Yakima Valley Community College branch campus, attendees to the fair made their way around the circuit of tables. Once they completed the course they were treated to a hamburger or hotdog.
Among the booths set up was Catholic Charities Housing Services, which gave people information on how to get into their own home, whether they are high, middle or low income.
One interesting booth was put on by the Washington State Migrant Council Early Head Start program. Five stages of a fetus were displayed in life-like models. The models were so life-like that to touch them the person had to be wearing rubber gloves.
Hilda Ramirez, an employee with the Early Head Start program, said the aim was to teach pregnant mothers about the importance of keeping up with prenatal care.
Employees from Sunnyside Community Hospital were on hand at the fair to give free diabetes tests. Children lined up to get poked by the nurses.
The Bayer Diabetes group was also there. They had blood glucose meters on hand and gave out information about them. A representative from Bayer Diabetes said that diabetes is growing fastest among Hispanics.
Consejo was also there. Based in Grandview, this group helps victims of general crimes, domestic violence and sexual assault. Lower Valley Crisis and Support Services also on-hand.
Other groups offering important information were DSHS, the Salvation Army, Hapo Credit Union and the Yakima Regional Clean Air Authority.