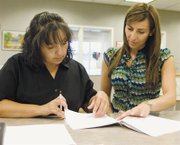 GRANDVIEW - After seven years with the Grandview School District, Angie Ozuna will take the helm at Mabton's Artz-Fox Elementary school to start the 2009-10 school year.
It's quite an achievement for the Grandview native, who 10 years ago graduated from Grandview High School.
"I'm excited about the new job," Ozuna said.
She added that she is looking forward to working with the students, parents and teachers at Artz-Fox. On top of her wish list was an administrative job that allowed her to stay in the valley. By going to Mabton Ozuna said the opportunity to work and support students from an area she is from is exciting.
After graduating in 1999 Ozuna earned her Bachelor's degree in teaching from Central Washington University in 2003. She earned her Master's in profession development from Heritage University in 2005, as well as her professional certification for new teachers from Central Washington University the same year. Her administrations certification came next in 2006.
Since 2007 Ozuna has been a staff developer for the Grandview School District. There she worked with K-7 teachers through coaching and analyzing data.
She's also been a para-pro, a first and third grade dual language elementary school teacher and is currently the elementary summer school administrator in Grandview.
"I love it," she said. "I love working with the kids, it's an awesome job."
Ozuna said she sees herself as being visible to students, parents and teachers when she takes over at Artz-Fox. She added that she will have an open door policy.
"I want to build parent involvement," she said. "We can build data that will support the teachers."
Although she will miss teaching in Grandview she is excited about her new endeavor.
"I've been here my whole career," she noted. "I'm very thankful for all the support I received."
But moving up the chain is a goal of Ozuna and as she puts it, she's accomplishing those goals.