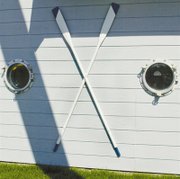 Yakima Valley Community College has released the names of students who made the President's or Dean's lists for the spring quarter of 2009.
To receive a President's List designation a student must earn a quarterly grade point average of 3.85 or higher and have a course load of a minimum of 12 credits.
Making the grade from Sunnyside were Terrie D. Belt, Lorena Frausto, Will P. Furan, Donna Isabel Gutierrez, Jose V. Lopez, Rhonda K. Lyons, Ronald J. Osborn, Oscar I. Santana, Nicholas Steckler and Benjamin S. Tucker.
Grandview was also represented by several YVCC students that made the list. They were Josh A. Beck, Blanca A. Granados, Daniel S. Martinez, Gloribel J. Mondragon, Jessika N. Perez and Albert F. Waterman.
Mabton's Alma D. Garcia and Christine Medrano made the list, as well as Prosser's Gayle L. Hansen and Andrew Pine.
To earn a spot on the Dean's List a student must earn a quarterly grade point average of 3.4 to 3.84 and be enrolled in at least 12 credits.
Making the Dean's List from Sunnyside were Michelle Cisneros, Carly L. Dahlstrom, Maria Elisa Elizondo, Jaime Esqueda, Carina O. Farias, Rachel Fernandez, Marecela Flores, Lionel Garcia, Isla A. Garza, Nicole Garza, Diedree M. Hall, Jacob T. Hernandez, Miguel A. Juarez, Noreen L. Lutton, Lionel Martinez-Munoz, Taylor C. Mortensen, Juan C. Orozco, Marra-Lynn Rodriguez, Rachel C. Romero, Nicole K. Southern, Roberto M. Vidales, Carolina F. Warwick, Jenna M. Zamarron and Janice V. Hale.
Students from Grandview on the Dean's List included Javier Alvarez, Stephen Caballero, Daniela Conde, Erica Delgado, Estela Gomez, Joshua L. Gray, Alberto T. Medel, Michael C. Pena, Ramon Perez, Teresa M. Schultz, Crystal L. Spradlin and Robert A. Whitenack.
Making the grade from Granger were Amanda L. Glover, Ben M. Jochen, Melissa A. Jochen and Jacob R. Sevigny.
Mabton's Derek J. Newhouse and Tia Salinas made the Dean's List, as well.