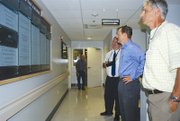 Business leaders and members of the community who contributed to the renovation of Sunnyside Community Hospital's new emergency room were treated to a small gathering yesterday.
The emergency room's donor wall was unveiled, displaying the names of each business and community member who helped make the emergency room one of the best in the county.
Speaking at the event were Sunnyside Community Hospital Foundation's John Mercer, President of the Sunnyside Community Hospital Board of Trustees Jim Sewell, Sunnyside Community Hospital CEO Jon Smiley and Yakima County Commissioner Rand Elliott.
Mercer said the hospital began remodeling approximately 10 years ago, with the patient wing, birthing center, pharmacy, surgery suites and the emergency room all tapped for improvements.
"This is a class A facility because of the community's help," he stated, saying approximately 2,000 patients have been treated in the emergency room since 2007.
Stepping up to recognize those contributing to the project was Smiley, who said he did not think the hospital would be able to see such a project happen. The efforts of those who made it happen and the support of those working together, he said, made the wait worthwhile.
Sewell credited the foundation and contributors for making the facilities at Sunnyside Community Hospital "state-of-the-art," and Elliott said the emergency room expansion and renovation is another example of what can happen when a community comes together.
"This is the best facility in the county, in my opinion," said Elliott.
After each of the dignitaries praised those gathered for the unveiling of the donor wall, those present were invited to look at the wall and share some ice cream and refreshments.
Foundation member Bill Flower said, "This is the final act on the emergency room project...one which we can all be proud of."