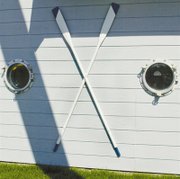 A good pair of oars is hard to find these days, or that seems to be the case as thieves made off with four of them from Skippers Restaurant last Saturday.
Whether the culprits wanted four oars for their boat or to use as decorations at home doesn't really concern franchise owner Dorothy Waters. What does is getting them back. So much so that Waters is offering a $100 reward for the return of them.
"They've been a part of the building since it was built back in the 1980s," she said. "They can't be replaced."
Although the oars are just your standard type, they appealed to someone out there and Waters is hoping they will hear her plea and return them.
All in all it's not a welcome the new Sunnyside business owner expected upon opening the Sunnyside Skippers back up. But she won't be deterred.
"They're not going to push our buttons," she said. "We will put something back up but we'll make it stick this time."
Anyone with information about this crime can call Waters at 541-980-6056.