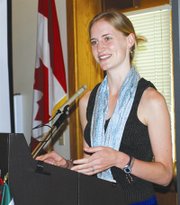 She enjoys traveling to distant lands, learning about different cultures and gaining new experiences.
Rotary cultural ambassadorial scholar Aleida Auld recently spent five months in Rio de Janeiro, Brazil representing Rotary District 5060. She shared her experiences this past Monday with Sunnyside's Noon Rotary Club.
It isn't the first time she has ventured to a foreign land. Auld was an exchange student in Chile several years ago, and that is where she met her soon-to-be husband David.
The five months in Rio de Janeiro, she said, was different because she was bi-lingual in English and Spanish, but had to learn the Portuguese language.
"I tested 76 percent at the beginning of the five months and at the end of that time I tested 97 percent (fluent)," said Auld.
She studied language at BridgeLinguaTech and interned with an international consulting firm, Inter.B.
Auld said the language school was unusual in that the instructors rotated "...bringing their own slant to the class."
She said her education was diverse because of the various teachers in the class, but she found "language is a conduit for communication."
Auld, now a graduate of the University of Washington with a Bachelor's in economics, gained professional development through her internship. She visited the World Bank and worked closely with other economists there.
Although she earned her degree shortly after the Brazilian experience, she doesn't anticipate working in the field of economy.
Auld told the Rotarians she plans to move to Sweden with her fiancé and is unsure what further education she will pursue.
Her experiences in Brazil were not limited to the classroom and banking, however.
Auld became friends with members of a local Methodist church and a librarian, who had an adventurous spirit.
She said her friend helped her understand the culture and shared things that caught Auld off-guard.
Another good friend helped her learn to appreciate the things that enrich her life. That friend also helped give Auld a greater perspective in life.
"We (Americans) are possessors of an incredible language...English, which affords us many opportunities and the ability to express ourselves," Auld said of her newfound perspective.
She said the most intimate insight into the Brazilian culture came from her host parents, who are a married couple. The pair of engineers teach at the university in Rio de Janeiro.
"They are relaxed and generous," said Auld.
The Prosser native was unaccustomed to an empregada, in-house help. She said the empregnada was treated as a "presence," rather than a person and the family demanded that she meet their needs. The teen daughter, too, was demanding of the help.
Experiencing "culture shock," said Auld, was something she expected. What she did not anticipate was the great divide between the poor and those who live comfortably.
She said there is a visible difference from the north and south zones of Rio de Janeiro. The north zone is underdeveloped, with no septic, garbage and few amenities to speak of.
The south zone, Auld said, is just as developed as any American city. She said there one can even find internet access.
She said the vast dichotomy between Brazil's environmental concerns versus the harsh reality of those with little concern for the environment also opened her eyes. Most of the electricity in Brazil is generated through hydroelectric power, which keeps the environment clean. Those illegally logging the rainforest, however, contribute to high carbon dioxide levels, making the air polluted.
Auld told the members of Sunnyside's Noon Rotary Club her experiences in Brazil have made her more aware of all she possesses and helped her to reevaluate her goals.
"It was truly wonderful," she stated.