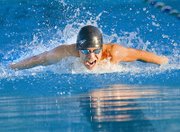 Winners of 54 of the 65 races staged last night, the Sunnyside Sharks swept past visiting Othello, 541-162.
The non-league victory boosted the Sunnyside summer swim team's overall record to 7-1.
The Sharks' next competition isn't until next Tuesday, July 21, when they travel to Naches to take on the Barracudas, whom Sunnyside defeated handily two weeks ago.
Othello 162 - Sunnyside 541
200-Meter Medley Relay
Girls 10&U
1st-Sunnyside (H. Perez, E. Maldonado, G. Gray, J. Brown) 4:14.37
Boys 10&U
1st-Othello (H. Sparks, D. Carlson, K. Dockins, S. Azevedo) 4:10.90
Girls 12&U
1st-Sunnyside (K. Banks, H. Vergara, P. Sample, J. Rodriguez) 3:10.37
Boys 12&U
1st-Sunnyside (C. Murphy, M. Marquez, F. Rodriguez, A. Perez) 3:23.60
Girls 14&U
1st-Sunnyside (C. Rollinger, T. Van Corbach, M. Marquez, A. Bestebreur) 3:08.25
Girls 18&U
1st-Sunnyside (A. Martin, K. Broersma, M. Tyler, K. Bridges) 2:42.43
Boys 18&U
1st-Sunnyside (T. Stiteler, G. Stutesman, C. Vargas, J. Villegas) 2:28.75
50-Meter Butterfly
Girls 8&U
1st-Ashlee Maldonado (S) 1:00.45, 2nd-Bailey Hazzard (S) 1:16.78, 3rd-Allison Davis (S) 1:18.59, 4th-Kassidy Cram (S) 1:27.56
Boys 8&U
1st-Parker Van de Graaf (S) 1:09.18, 2nd-Johnny Heffron (S) 1:11.31, 3rd-Clay Schilperoort (S) 1:33.53, 4th-Luke Stutesman (S) 1:35.60
Girls 10&U
1st-Aydan Harrington (S) 50.87, 2nd-Emilee Maldonado (S) 54.22, 3rd-Hunter Perez (S) 57.40, 4th-Jolissa Mendoza (S) 57.62
Boys 10&U
1st-Hunter Sparks (O) 57.37, 2nd-Kameron Dockins (O) 1:03.12, 3rd-Adrian Heffron (S) 1:03.96, 4th-Carlo Rodriguez (S) 1:04.37
Girls 12&U
1st-Payton Sample (S) 41.84, 2nd-Lindsay Schilperoort (S) 45.68, 3rd-Tatum Sparks (O) 47.15, 4th-Katelyn Banks (S) 48.59
Boys 12&U
1st-Fox Rodriguez (S) 48.18, 2nd-Alex Perez (S) 50.18, 3rd-Ben Azevedo (O) 54.59, 4th-Mathew Marquez (S) 54.71
Girls 14&U
1st-Tara Van Corbach (S) 38.81, 2nd-Madi Marquez (S) 41.46, 3rd-Charley Beth Rollinger (S) 53.61, 4th-Kayden Cram (S) 1:01.12
Boys 14&U
1st-Austin Taylor (O) 45.18, 2nd-Hunter Hamilton (O) 47.84, 3rd-Ethan Partch (S) 50.65, 4th-Tanner Sparks (O) 54.52
Girls 16&U
1st-Marisa Broersma (S) 36.18, 2nd-Alissa Martin (S) 40.93, 3rd-Emily Hutchins (S) 47.66, 4th-Estrella Marroquin (O) 58.84
Boys 16&U
1st-Cristian Vargas (S) 32.50, 2nd-Michael Taff (O) 35.43, 3rd-Michael Rattray (O) 36.92, 4th-Tim Stiteler (S) 37.84
Girls 18&U
1st-Megan Tyler (S) 42.72
50-Meter Breaststroke
Girls 8&U
1st-Bailey Hazzard (S) 1:07.40, 2nd-Allison Davis (S) 1:07.56, 3rd-Arizona Rodriguez (S) 1:18.60, 4th-Ashlee Maldonado (S) 1:18.65
Boys 8&U
1st-Johnny Heffron (S) 59.69, 2nd-Luke Stutesman (S) 1:21.53, 3rd-Parker Van de Graaf (S) 1:23.84, 4th-Alec Bazaldua (S) 2:07.78
Girls 10&U
1st-Aydan Harrington (S) 56.34, 2nd-Emilee Maldonado (S) 1:01.02, 3rd-Sadie Salas (S) 1:02.93, 4th-Meghan Ramon (O) 1:07.21
Boys 10&U
1st-Jacob Mendoza (S) 57.03, 2nd-Adrian Heffron (S) 1:00.03, 3rd-Kameron Dockins (O) 1:01.05, 4th-Samuel Azevedo (O) 1:10.78
Girls 12&U
1st-Heidi Vergara (S) 49.71, 2nd-Katelyn Hazzard (S) 50.43, 3rd-Ashley Davis (S) 51.14, 4th-Kalie Bestebreur (S) 52.06
Boys 12&U
1st-Fox Rodriguez (S) 52.81, 2nd-Mathew Marquez (S) 54.52, 3rd-Alex Perez (S) 54.87, 4th-Michael Lebacken (O) 59.12
Girls 14&U
1st-Tara Van Corbach (S) 47.25, 2nd-Madi Marquez (S) 49.12, 3rd-Amanda Bestebreur (S) 55.59, 4th-Charley Beth Rollinger (S) 56.43
Boys 14&U
1st-Michael Gerber (O) 45.93, 2nd-Austin Taylor (O) 54.15, 3rd-Hunter Hamilton (O) 56.03, 4th-Ethan Partch (S) 57.06
Girls 16&U
1st-Marisa Broersma (S) 40.68, 2nd-Alissa Martin (S) 47.15, 3rd-Emily Hutchins (S) 54.60, 4th-Estrella Marroquin (O) 56.98
Boys 16&U
1st-Cristian Vargas (S) 39.78, 2nd-Michael Taff (O) 41.16, 3rd-Tim Stiteler (S) 41.31, 4th-Michael Rattray (O) 41.52
Girls 18&U
1st-Megan Tyler (S) 46.78
50-Meter Backstroke
Girls 8&U
1st-Ashlee Maldonado (S) 1:04.50, 2nd-Arizona Rodriguez (S) 1:08.47, 3rd-Kassidy Cram (S) 1:10.40, 4th-Emily Broersma (S) 1:13.60
Boys 8&U
1st-Johnny Heffron (S) 1:05.12, 2nd-Parker Van de Graaf (S) 1:09.13, 3rd-Clay Schilperoort (S) 1:19.15, 4th-Luke Stutesman (S) 1:25.50
Girls 10&U
1st-Aydan Harrington (S) 50.56, 2nd-Emily Banks (S) 54.12, 3rd-Jolissa Mendoza (S) 54.56, 4th-Isabel Vasquez (O) 56.28
Boys 10&U
1st-Bryce Murphy (S) 53.09, 2nd-Kameron Dockins (O) 56.37, 3rd-Adrian Heffron (S) 56.71, 4th-Patrick Zecchino (S) 57.50
Girls 12&U
1st-Lindsay Schilperoort (S) 45.56, 2nd-Katelyn Banks (S) 45.93, 3rd-Brenda Fleshman (O) 52.58, 4th-Ashley Davis (S) 52.81
Boys 12&U
1st-Ethan Johnson (O) 49.66, 2nd-Fox Rodriguez (S) 50.84, 3rd-Chad Stiltner (S) 52.30, 4th-Alex Perez (S) 54.40
Girls 14&U
1st-Madi Marquez (S) 43.25, 2nd-Tara Van Corbach (S) 49.09, 3rd-Mikala Parris (O) 49.62, 4th-Charley Beth Rollinger (S) 50.06
Boys 14&U
1st-Michael Gerber (O) 39.44, 2nd-Hunter Hamilton (O) 49.40, 3rd-Austin Taylor (O) 51.21, 4th-Ethan Partch (S) 54.12
Girls 16&U
1st-Marisa Broersma (S) 39.21, 2nd-Alissa Martin (S) 42.62, 3rd-Estrella Marroquin (O) 48.69, 4th-Emily Hutchins (S) 49.43
Boys 16&U
1st-Cristian Vargas (S) 35.60, 2nd-Michael Rattray (O) 37.91, 3rd-Tim Stiteler (S) 38.21, 4th-Michael Taff (O) 41.75
Girls 18&U
1st-Megan Tyler (S) 46.46
50-Meter Freestyle
Girls 8&U
1st-Ashlee Maldonado (S) 54.17, 2nd-Arizona Rodriguez (S) 57.78, 3rd-Shaya Parrish (O) 58.75, 4th-(tie) Emily Broersma (S) & Allison Davis (S) 59.03
Boys 8&U
1st-Johnny Heffron (S) 57.27, 2nd-Parker Van de Graaf (S) 1:02.68, 3rd-Clay Schilperoort (S) 1:17.50, 4th-Luke Stutesman (S) 1:35.60
Girls 10&U
1st-Shayla Michel (O), 2nd-Aydan Harrington (S) 43.25, 3rd-Meghan Ramon (O) 45.99, 4th-Emily Banks (S) 46.78
Boys 10&U
1st-Adrian Heffron (S) 40.37, 2nd-Dusty Carlson (O) 44.90, 3rd-Patrick Zecchino (S) 45.50, 4th-Hunter Sparks (O) 46.85
Girls 12&U
1st-Payton Sample (S) 37.81, 2nd-Katelyn Banks (S) 39.53, 3rd-Lindsay Schilperoort (S) 40.56, 4th-Tatum Sparks (O) 40.59
Boys 12&U
1st-Alex Perez (S) 38.40, 2nd-Michael Lebacken (O) 42.34, 3rd-Ethan Johnson (O) 42.97, 4th-Tyler Amoruso (O) 44.34
Girls 14&U
1st-Madi Marquez (S) 34.25, 2nd-Tara Van Corbach (S) 34.50, 3rd-Mikayla Parris (O) 41.30, 4th-Charley Beth Rollinger (S) 41.94
Boys 14&U
1st-Michael Gerber (O) 30.01, 2nd-Austin Taylor (O) 33.96, 3rd-Hunter Hamilton (O) 37.28, 4th-Tanner Sparks (O) 43.84
Girls 16&U
1st-Marisa Broersma (S) 32.28, 2nd-Alissa Martin (S) 37.56, 3rd-Emily Hutchins (S) 39.15, 4th-Kendra Hollmeyer (S) 40.36
Boys 16&U
1st-Tim Stiteler (S) 29.84, 2nd-Michael Rattray (O) 30.69, 3rd-Cristian Vargas (S) 31.28, 4th-Michael Taff (O) 31.71
Girls 18&U
1st-Megan Tyler (S) 37.90, 2nd-Danielle Newhouse (S) 39.59
200-Meter Freestyle Relay
Girls 10&U
1st-Sunnyside (E. Maldonado, H. Perez, J. Brown, J. Mendoza) 3:29.78
Boys 10&U
1st-Sunnyside (P. Zecchino, B. Murphy, A. Heffron, J. Mendoza) 3:20.47
Girls 12&U
1st-Sunnyside (K. Bestebreur, J. Rodriguez, P. Sample, K. Hazzard) 2:55.84
Boys 12&U
1st-Sunnyside (F. Rodriguez, C. Murphy, M. Marquez, A. Perez) 3:03.53
Girls 14&U
1st-Sunnyside (T. Van Corbach, C. Rollinger, A. Bestebreur, M. Marquez) 2:51.46
Boys 14&U
1st-Othello (T. Sparks, K. Dockins, B. Azevedo, A. Taylor) 2:57.25
Boys 18&U
1st-Sunnyside (G. Stutesman, J. Villegas, C. Vargas, T. Stiteler) 2:12.49
200-Meter Individual Medley
Girls 10&U
1st-Meghan Ramon (O) 4:18.97, 2nd-Hunter Perez (S) 4:40.40
Boys 10&U
1st-Adrian Heffron (S) 4:25.21, 2nd-Jacob Mendoza (S) 4:26.94, 3rd-Carlo Rodriguez (S) 4:27.21, 4th-Kameron Dockins (O) 4:35.78
Girls 12&U
1st-Tatum Sparks (O) 3:51.97, 2nd-Brenda Fleshman (O) 4:01.35, 3rd-Ashley Davis (S) 4:04.15, 4th-Jordan Rodriguez (S) 4:12.00
Boys 12&U
1st-Fox Rodriguez (S) 3:54.84, 2nd-Alex Perez (S) 4:00.69, 3rd-Christian Murphy (S) 4:11.81, 4th-Ben Azevedo (O) 4:17.56
Girls 14&U
1st-Madi Marquez (S) 3:27.46, 2nd-Tara Van Corbach (S) 3:36.93, 3rd-Kendra Dockins (O) 5:32.38
Girls 16&U
1st-Marisa Broersma (S) 2:57.76, 2nd-Emily Hutchins (S) 3:49.06, 3rd-Kendra Hollmeyer (S) 4:23.28
Boys 16&U
1st-Cristian Vargas (S) 3:00.78, 2nd-Grant Stutesman (S) 3:26.43, 3rd-Dylan Graybeal (S) 3:40.25
1 Bob Story 7/15/2009 4:37 PM