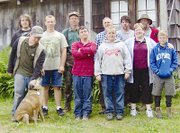 Last week members of Sunnyside's Boy Scouts Troop 632 embarked on a 50-mile hike down the Oregon Coast.
Troop treasurer Debbie Mendoza said the troop decided to do the hike in lieu of attending a Boy Scouts camp this summer.
Among the sites they visited on their trip were the wreck of the Peter Iredale and the Salt Works, where Lewis and Clark made salt to preserve their food.
Troop 632 began its journey at Fort Clatsop, from where they hiked to the ocean on the fort-to-sea trail. After eight miles the scouts set up camp at Camp Royce Finel on Lake Cullaby.
The next day the troops hiked from Fort Stevens down to the beach where they passed the Peter Iredale. The Iredale was a British sailing ship that sunk in 1906 while enroute to the Columbia River to pick up a shipment of wheat.
Troop 632 ended its second day at Sunset Beach.
On day three they hiked from Sunset Beach to the city of Seaside, where the Salt Works is located. This portion of the hike was 12 miles.
Day four saw the troop break camp and head to Ecola State Park, where they hiked the Tillamook Head Trail. At the end of the day the troop moved their camp from Camp Royce Finel to Cannon Beach, where they camped out for the remaining two nights.
On day five the troop hiked to Haystack Rock and then down the beach to Hug Point.
"We just barely made it past Hug Point before the tide came in," Mendoza recalled.
She said that at the beach the troops were able to see ocean life, such as mussels and star fish.
Another event the troops participated in was geo-caching, something Mendoza and three of the younger troops did.
Geo-caching is a twist on a scavenger hunt where the players use gps systems to find objects. It was an event that was great fun, Mendoza said.