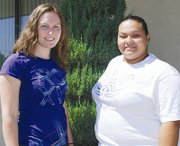 GRANDVIEW - Youth ages 14-20 often find themselves seeking summer jobs. This year, the American Recovery and Reinvestment Act has made that search easier for youth in the Yakima Valley.
Northwest Community Action Center case worker Ben Gonzales works with youth in Grandview. He and two other case workers were tasked at the end of the 2008-09 school year to provide students in the Grandview School District with information about the summer youth jobs program.
He said interested youngsters submitted applications for the 45 jobs available in Grandview at Sunnyside's WorkSource, as did youth in other communities involved in the program.
WorkSource provided case workers from each community with the applications from youth in each district.
Two youth selected for the program are Kyla Lyendekker and Adriana Asi of Grandview. The duo is working with the Yakima Valley Fair and Rodeo, promoting this year's event.
They have been busy learning to work with computers and obtaining business skills through their work.
"We are letting others know about the fair, visiting schools, nursing homes and businesses," said Lyendekker.
She said there are other jobs available at the fair for youth interested in working this summer.
Gonzales said Lyendekker and Asi are an example to others as to what jobs have been made available through the federal stimulus funding.
The funding was provided to Yakima County's Workforce Development Council, which partnered with Gonzales' organization to secure jobs for youth up and down the valley.
Other job opportunities available include tutoring younger children, he said, adding approximately 95 percent of the available jobs have been filled.
Youth still interested in working with the program can apply at Sunnyside's WorkSource, "...but they will be added to the waiting list," Gonzales clarified.
He said the program has been successful, gaining the participation of many private and non-profit businesses, such as the Washington State Migrant Council, the city of Grandview, Sunburst and Mid Valley Chrysler Dodge.