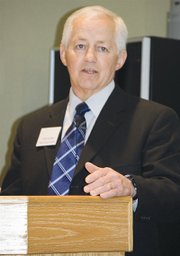 YAKIMA - Washington State Insurance Commissioner Mike Kreidler trekked to the Yakima Valley Community College campus in Yakima yesterday to address health care reform.
Kreidler said he feels "hugely optimistic" about discussions about health care reform at the national level.
Kreidler, a former physician, senator and congressman, said, "I've never been so optimistic about making profound and fundamental changes to the health care system."
He said it's becoming recognized as much more than just a moral issue. "It's also an economical issue."
He said it's fair to say the current health care system is fundamentally flawed.
By the end of the year, he projects 150,000 Washingtonions will have lost their employer-based insurance.
That means, he says, that one out of five people will not have health insurance. And due to high co-pays and deductibles, one out of every four won't have enough coverage for medical emergencies.
"We're looking at what's going to be here shortly a million people in the state of Washington without health insurance," he said.
But, he said, more people are becoming aware of how "flawed" the system is, as evidenced by corporate Wal-Mart's admission that health insurance is necessary.
Kreidler said he has four principles he personally advocates.
He believes health care must be universal, has to be portable (not tied to employment), people have to have a choice (in terms of selecting physicians), and the system must be that of which people are familiar with (as in following the private model if it becomes public).
Two issues are at the heart of the national debate, he said.
The first is the concept that a public plan competes with a private plan.
"I don't understand why having a public plan is such a nemesis to some," he said.
Having a public plan, he said, gives people choices. "It's a way of keeping the system honest."
Kreidler said there are two caveats to that: a public plan must be regulated the same way and be created at the state level, but following federal standards.
Secondly, who's going to pay for it?
"If we don't do anything, we're going to spend (trillions) over the next decade," he said. "The concept of not doing anything should be scary to everybody."
He said more will be spent if nothing is done versus what the government would spend for public insurance.
Kreidler proposes a guaranteed health benefit plan that provides universal catastrophic coverage. He believes that will drive down costs of regular medical coverage.
While no one can claim for certaint to know what's going to happen at the national level, Kreidler said one thing is certain. "We can do better. We must do better."