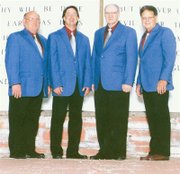 MABTON - They have developed a reputation for serving in the music ministry in Yakima, now the Gospel Messengers Quartet will venture to Mabton to share their unique sound.
Other musical groups, too, will be featured at this month's Gospel jamboree, which is staged at Mabton's Grace Brethren Church.
This month's jamboree will take place from 2 to 4 p.m. Sunday, July 19.
The event is free and community members of all ages are invited to attend or participate.