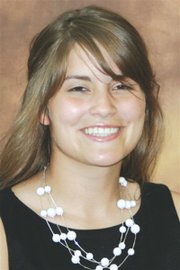 PULLMAN - Grandview Junior Miss Marlee Andrews will join 21 other high school seniors from across the state in Pullman on Tuesday, July 28, to vie for the title of Washington's Junior Miss for 2009-10. Along with the title the Junior Misses will compete for $8,800 in college scholarships.
The program to select the state's representative is set for Saturday, Aug. 1, at 7 p.m., in Washington State University's Beasley Performing Arts Coliseum.
Washington's 2008-09 Junior Miss will be presented a $4,000 scholarship at the Aug. 1 program, while the first runner-up will receive $1,250. Second runner-up will receive a $750 scholarship.
Several other scholarships will also be awarded during the program. The Junior Misses, who represent communities from across the state, will compete for a $300 Spirit of the Junior Miss Scholarship, two preliminary $200 scholastic scholarships and a $500 overall award for scholastic achievement.
In addition to the scholarships awarded in August the new state winner will be eligible for scholarships offered from universities throughout the United States.
Advance tickets to the Aug. 1 Junior Miss program are available through TicketsWest by calling 1-800-325-SEAT or at www.ticketswest.com. Tickets will also be available at the door. Cost for a ticket is $18.