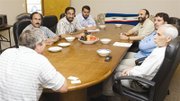 When Sunnyside veterinarian Mike Wedam told six visiting Afghanistan veterinarians that when he is on call he has potentially 50,000 patients from dairy and beef cattle alone, they could only shake their heads and smile.
The mere thought of so many cattle surprised them. In Afghanistan, if a farmer has 10 head of cattle it's considered a large operation.
The visiting veterinarians stopped in Sunnyside late last week to tour Wedam Veterinary Services as they made their way to Pullman to visit the Washington State University Veterinary School.
Sponsored by USAID and the U.S. Department of State's bio engagement program, the six visiting doctors attended a summit on global animal health in Seattle this past weekend. Calling it a study tour, the group will head to Colorado next week for another conference before heading home at the end of this month.
The group was a mixture of university professors, practicing doctors and even a representative from the Afghani government. Stopping at Wedam Veterinary Services they first toured the facilities lab, where nutrient analysis is performed for hay growers and dairies alike.
Lab Manager Gary Pulsipher explained to the visiting veterinarians that dairies rely heavily on the analysis because their protection is dependent on the quality of the feed they give to their cattle. By understanding the quality of the feed dairymen can predict how much milk production they can expect.
Pulsipher explained to them the different types of analysis he performs, such as fiber, protein and mineral content. He then detailed each machine he uses to perform his work.
Afterwards the doctors had some time with Wedam and the group discussed everything from the different diseases that affect cattle and what is more common in Afghanistan than in Sunnyside, and vice versa.
While a vet in the U.S. sees mostly horses, cattle or domestic animals, veterinarians in Afghanistan are used to treating cattle, horses, sheep, goats, donkeys and camels. Domestic pets are becoming more prominent but that is mostly due to foreigners bringing their family pets when they go to work in Afghanistan.
Other topics discussed at the meeting were different methods of insemination and various vaccines.
The Afghani doctors seemed pleased with their visit and especially pleased with the knowledge they gained at the Seattle conference. Calling it very useful, they said they plan on bringing back this new found knowledge to their country and sharing it with their colleagues and students.