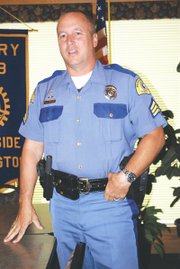 Bombs are not detonated in real life as seen on television, according to Washington State Patrol Sergeant Tom Foster.
He explained Monday at Sunnyside's Noon Rotary Club meeting bombs are often "disrupted," instead.
"Cutting the red wire or the blue wire like you see on television is not what happens," Foster went on.
He said bombs are most often disrupted by water. A bomb can also be disrupted by the use of C-4 explosives and other high velocity shots, Foster told the Rotarians.
He has been a member of the Washington State Patrol bomb squad for approximately three years. There are only three other bomb squads in the Eastern region of Washington state. Those squads are with the Richland and Spokane police departments, as well as at the Yakima Firing Center. The state patrol has four squads, of which Foster's is the only one on the east side of the Cascades.
He said bomb technicians are submitted to training by the Federal Bureau of Investigation at the Hazardous Devices School in Alabama. There are approximately 2,400 trained technicians in the U.S., all of whom are monitored by the FBI.
Foster said that is encouraging because he knows working with a technician from Texas will be similar to working with another technician locally since they receive the same training.
"I found it fascinating how busy the job is," said Foster, explaining bomb technicians do more than deal with high-priority bomb situations.
He said the squad is involved in disposal of explosive devices, such as fireworks and dynamite.
"The number one priority is protecting people...property is down on the list," Foster shared, explaining most explosives are disabled and detonated on-site.
He cited a situation approximately three weeks ago in which a bomb had been encased in concrete within a garage.
The bomb technicians did not remove the concrete from the garage, but placed a block of C-4 on top of the explosive material and detonated it.
Foster said the bomb squad uses equipment like a bomb truck and a trailer with a robot worth approximately $140,000. That robot, he said, is treated much like a technician because of its value.
"But, we would rather blow up the robot than a person," he clarified.
That robot, said Foster, is also a useful tool for providing citizens with insight to the practical use of robots.
He said it has been shown to youngsters participating in a robot competition in Zillah.
The Washington State Patrol bomb squad works to educate the public, providing training for recognizing a possible bomb situation.
Foster said members of his squad will visit a business to provide advice and training to employees. He said there is no right or wrong appearance of a bomb.
"It can look like anything...a teddy bear, a backpack, anything out of the ordinary," he said, explaining bomb technicians have been on scene and not known what exactly might or might not be a bomb.
Using the example of a bomb threat at one of Prosser's schools, he said the youngsters at the school were taught to treat the situation like a fire situation. The students abandoned backpacks and personal belongings as they evacuated the school.
"We walk into the school and what do we see...a row of backpacks...all of which look like a bomb to us," Foster went on.
He advises personal belongings be taken from the scene to assist bomb squad members in the search for a suspected bomb.
If a bomb is suspected, Foster also told the Rotarians to call the bomb squad and provide as much background information as possible.
"Have you had any threats or other suspicious circumstances?"
Foster said of the 65 calls received this year, 20 responses were made by the bomb squad...one of those was a murder scene and required the assistance of three bomb dogs.
"The situations are tense, but kinda exciting," he said.