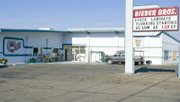 Sunnyside Valley Irrigation District has been building a reserve fund for some time with the thought of eventually expanding its office operations, SVID Manager Jim Trull said.
And with SVID's recent conservation program getting a boost from a $21.5 million Bureau of Reclamation grant, Trull said the time was right to expand.
Instead of adding on to SVID's current location, Trull said it was a better fit to buy the building that currently houses Bieber Brothers Fashion Floors on Yakima Valley Highway in Sunnyside.
The $550,000 purchase of the 13,400 sq ft building was closed July 8.
Trull said the new purchase will house SVID's construction office as the irrigation district spends the next two years piping nearly 65 miles of open canals.
Along with the construction office the new purchase will also house some of SVID's engineering staff.
A small section of the building will remain Bieber Brothers Fashion Floors until Nov. 1 to give time for Bieber Brothers to liquidate their inventory. When that section of the building is turned over to SVID, Trull said an office will be built to house SVID's drainage division.
Currently, the SVID Drainage Division is housed in the basement of the SVID offices and Trull said by moving the division to the new building that will free up additional space for the irrigation district's computer system.
Trull said he hopes to complete the move by March or April of 2010.
Once SVID takes control of the entire building, Trull said the water quality lab will be moved to the new building and additional storage space will be opened.
"This is a good acquisition for us," Trull said. "It fits in nicely with our entire campus."
Trull said he hopes to see the construction office in the new building by August or September of this year.