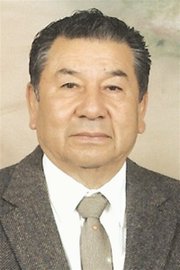 Mabton's Serapio Herrera is one of 20 Central Washington residents to receive the Central Washington Catholic Foundation's Lifetime of Service award, also known as the Francis Eugene Cardinal George Medallion award.
According to a press release issued by the foundation, the award recognizes those who work tirelessly to promote Christ's work.
Herrera was nominated for the honor by Rev. Gary L. Desharnais of the Immaculate Conception Parish in Mabton.
In the nomination letter, Desharnais said, "The Immaculate Conception Parish Church in Mabton is celebrating its 100th anniversary in 2009. For most of that time, since 1945, it has had its own resident guardian angel and his name is Serapio Herrera."
At the age of nine, Herrera received his first communion in the church. When he was young he served as an altar boy.
Desharnais said Herrera's "intense involvement" with the church began in the late 1950's.
For many years, Herrera taught catechism classes at the church and also at the Green Giant labor camp in the Satus. Desharnais said that at the request of several pastors, his involvement began to flourish. By 1978, Herrera took over physical charge of the Mabton parish.
"Not only did he make needed repairs, but he arranged and coordinated religious education," Desharnais wrote in the nomination form.
He hailed Herrera for his tremendous involvement in the church and involving himself in every aspect of the church.
"While many people generously volunteer their time for a while before moving on, Serapio has remained an advocate and sentinel for his parish church through several generations of people," Desharnais said.
The medallion is only awarded every three years and reflects three hallmarks of service: time, talent and treasure.
Herrera and the other recipients will be honored at an award reception on Sept. 19.