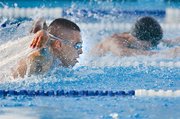 GRANDVIEW - The Grandview Neptunes swim team won its first meet of the summer over the visiting Connell Piranhas last night (Tuesday).
A score was not made available due to technical difficulties, but the Neptunes (1-8) had an overwhelming 17 individual swimmers who earned top honors.
Two individuals, 12&U Grandview boys swimmer Micah Binfet and boys 14&U competitor Fabian Ruiz won each of their five individual events.
Binfet tagged the end of the pool in 32.47, just more than seven seconds ahead of runner-up and teammate Brendon Lynch-McGhan in the 40-yard butterfly. In the 40-yard breaststroke, Binfet bested Lynch-McGhan with a time of 32.44. Lynch-McGhan clocked a time of 40.21. Binfet clocked 35.52 in the 40-yard backstroke, with McGhan earning runner-up honors in 42.43. The pair earned another one-two finish, with Binfet clocking 26.34 and Lynch-McGhan tagging the end of the pool nearly four seconds later in the 40-yard freestyle. Binfet bested Lynch-McGhan in the 160-yard individual medley with a time of 2:45.21. Lynch-McGhan clocked 3:08.32 for runner-up honors.
Ruiz and teammate Jose Castilleja had similar results. Ruiz clocked the winning time of 23.42 in the 40-yard butterfly, with Castilleja just more than three seconds behind in a time of 26.51. In the breaststroke, Ruiz tagged the end of the pool in 28.85 and Castilleja clocked the runner-up time of 30.39. In the backstroke, Ruiz won top honors with a time of 30.87, the runner-up was Errick Williams in 32.77. Castilleja earned third place honors, tagging the edge in 35.15. He came back for runner-up honors in the freestyle, clocking 21.24. Ruiz again claimed the victory in 19.56. In the individual medley, Ruiz clocked 2:18.23 and another Neptune, Mitchel Wagner, earned runner-up honors in 2:38.92.
Connell, too, had some strong competitors. Josie Bear (12&U) won all five of her individual events, providing a challenge for Grandview's Tiana Perez, Taylor Colson, Hailey Walker, Cali Castilleja and Sierra Russell.
Connell's Allyson Reimers challenged Grandview's Tiffany Owens in the girls 16&U events. Reimers left the pool with three wins and two runner-up finishes.
Nick Trowbridge of the Piranhas earned four first-place honors finishes in the boys 16&U events, and 18&U girls competitor Emily Tobin of Connell won all but one of her five events against Grandview. She was runner-up to Neptune competitor Gio Gomez in the freestyle, tagging the wall in 25.29, compared to Gomez's 23.53.
In the boys 8&U events, Carson Klaustermeyer of the Piranhas won three of his individual events.
Winning top honors for Grandview in three individual events were girls 8&U competitor Cassandra Ruiz, girls 10&U swimmer Natalee Oxley, girls 14&U swimmer Samanta Castaneda and Ryan Contreras in the 18&U boys division.
Ruiz earned top honors in the 40-yard butterfly, clocking 55.74. She clocked 50.34 and 45.33 in the breaststroke and freestyle events, respectively.
Oxley earned top honors, winning the backstroke in 38.16, the freestyle in 29.29 and the individual medley, clocking 2:55.18.
Castaneda was the first to tag the end of the pool in the backstroke, the freestyle and the individual medley, clocking times of 31.25, 26.06 and 2:34.59, respectively.
The butterfly, breaststroke and freestyle events were Contreras' best last night. He crossed the 40-yard pool in 23.08, 30.52 and 20.29, respectively.
Earning top honors in two events apiece for the Neptunes were Tiffany Owens (16&U) and Spencer Blanshan (18&U).
Also earning wins for the Grandview team were Jessica Morales (14&U), Nicolas Cortez (8&U), Reagan Colson (10&U), Jordan Colson (8&U), Joey Fleming (10&U), Tawnya Francis (14&U), Tavian Valenzuela (10&U), Maurice Prieto (10&U) and Gio Gomez (18&U).