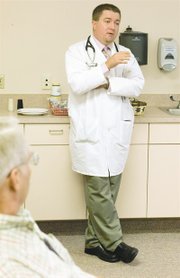 Growing up in communist Poland and then Canada, Sunnyside Community Hospital's Dr. Michael Gawlik knows a little about national health care.
And what he's been seeing and hearing in the news has him very concerned. In fact, so concerned Gawlik claimed he has nightmares about it, he told Sunnyside Daybreak Rotarians at their regularly scheduled meeting Wednesday morning.
What he has been hearing is talk of a national health care system being touted by the Obama administration.
Gawlik spent most of his life in Poland until he and his family immigrated to Canada after the fall of the Iron Curtain. In Canada Gawlik finished his high school education and went to university. Unable to be accepted to medical school in Canada because of a twist of fate with affirmative action, Gawlik returned to Poland to get his education in the medical field. He now is an internal medicine specialist in Sunnyside.
He is opposed to national health care and listed a few examples of why he is.
"People in Canada are dying," he said. "And no one talks about it."
He claims that 10 to 20 percent of the people lined up at the University of Washington hospital are from Canada, looking to get procedures performed that take months or even years to get done up north.
He listed two personal experiences that were close to him.
Gawlik said his mother, who lives in Ontario, Canada, has been walking around on a bad knee for five years.
She has seen doctors about her knee in those five years but because of an overworked, depleted staff, she was never seen properly. She was treated with anti-inflammatory medications and exercise but was never given a MRI. When she finally was, five years after her pain started, she was diagnosed as having torn ligaments in her knee. She is now scheduled to have knee replacement surgery...in 2012.
His grandfather needed to have quadruple bypass heart surgery and was forced to wait six months for the operation. During that time he was treated with nitro-glycerin and aspirin.
Gawlik said that at Sunnyside Community Hospital doctors can get a patient scheduled for the same operation in 48 hours.
Gawlik also claimed that in countries like England and the Netherlands doctors actually ride in ambulances. Once they come to the emergency they will treat the patient, but usually don't take them to the hospital. He also said doctors in those countries have orders not to resuscitate any one older than 80 years of age.
"Unlike the government I grew up with, yours actually listens to you," he told the Rotarians.
He encouraged them to write, e-mail or fax their concerns to their representatives.