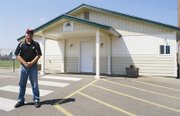 GRANDVIEW - In the spring of 2008 members of Grandview's city council, school district, chamber of commerce, port district and the Yakima Valley Fair and Rodeo board gathered for discussions on steps toward making Country Park more marketable.
"The group wanted to find ways to showcase the park," said Parks and Recreation Department Director Mike Carpenter.
City Administrator Scott Staples said it was decided an assessment committee was needed. That committee visited the park and looked at the facilities located there.
He said the committee decided several improvements were needed, including the complete refurbishment of the George Young Building, which is the first building seen when entering Country Park.
"The building needed to be brought up to code," explained Carpenter, stating the building was donated to the city by the Grandview Lions Club in 1989.
It had been named after longtime Grandview Herald editor and Lions Club member George Young when it was still located on the former fairgrounds property. The building sat where Grandview's Carl L. Stevens Senior Center currently is located, according to Carpenter.
Over the years, the building became a "catch-all" storage facility.
It was never intended as such, however. Carpenter said the Lions Club intended the facility to be utilized for meetings.
That has now been made possible thanks to the efforts of the Grandview Public Works Department.
Staples said the city allocated just more than $20,000 from its capital improvement fund to re-vamp the building in 2008.
Over the course of the past year, employees of the Public Works Department gutted the building and provided it a complete makeover.
Carpenter said the building has all new electrical and lighting, plumbing, appliances, cabinets, paint, siding and restrooms, as well as a new "wall configuration."
"The hope now is that the building can be used by the community for rentals, meetings and other gatherings," he said.
The building, said Carpenter, has the capacity to hold 49 people. Those gathering at the building can use the new chairs and tables, as well as the kitchen facility.
"It's now a usable venue," he went on.
Anyone interested in renting the facility can call the Grandview Parks and Recreation Department at 882-9219.
"Country Park is a fabulous venue, and we want people to enjoy it," said Staples.