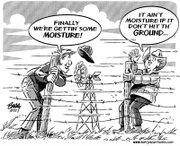 I have been a farmer for the past two weeks and I am doing quite well.
I have grown wheat, corn, cabbage, raspberries, grapes, coconut trees and I have a couple of orchards, even.
I'm not the traditional farmer, toiling over my crops in the heat of the sun. I don't deal with adverse weather, either.
I still have to harvest my crops and plan each one so that they might be harvested on time.
I gather more money as I become more successful. I even get money for helping my neighbors.
So, how can I harvest rice in just a matter of days?
I own two farms online. That's right. I am talking about the internet.
Facebook has two applications called Farm Town and Farmville on which I have taken to farming.
I enjoy these applications because anyone who is a member of Facebook can play.
I know a couple of people locally who have started their own farms in the same manner.
For one, farming is not in her blood. Just the other day she told me she realized tending a farm would take a lot of time.
It can take time. If a farmer plans the crops well the harvest won't be ready until you have the time to gather them.
Many of my animals, for example, don't need me to gather the eggs, milk and wool until lunchtime each day on one of the two applications.
The other application... I have planned my crops to be ready at around 11 p.m. Friday night.
It is not often I find a "game" I enjoy because I tend to think of myself as challenged when it comes to hand-eye coordination.
These two games, however, don't require such skills and I enjoy visiting the farms of my neighbors, watering their flowers and earning myself both a little added cash to build my farms, as well as experience points.
In two short weeks, I have become a master farmer on one application and have built a home, a windmill and a barn. On the other application I have my own home.
Oh! You can also chat with your neighbors when they are online, and you can hire someone to assist you.
Well, I have my son for that! What can I say? He's cheap and we love the work.