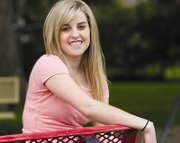 For the first time in a very long time Kaylyn Jongsma will don a dress. In fact, one of the reasons why Jongsma's vying for the Miss Sunnyside title is because the athlete wants to show the community an entirely different side of her.
"I want to change my sporty image and I want to show people something different about me other than a tomboy," says Jongsma.
Growing up, she says, "I was always hanging out with guys. Instead of hanging out with my sisters, I'd hang out with my brothers."
Yet, she says, "I've changed." But that doesn't mean she'd choose a dress over jeans, she joked.
For the first time, Jongsma will dance in front of an audience at the Miss Sunnyside Pageant.
For her talent, she says, "I'm going to do dance with magic tricks in it. I chose it because I can't sing...this is going to be the first dancing act I've ever done." Jongsma's getting help from her brother when it comes to the magic trick part of the talent competition.
Jongsma enjoys playing basketball and soccer at Sunnyside High School and has a sincere appreciation for athletic programs.
Of sports, she says, "It's made me stronger." She adds that she understands the value in teamwork. "Out there on the court, you can achieve stuff on your own. But it's easier if you have someone to work with you."
Being involved in sports has also taught her competitiveness and discipline.
"I like to win. We would try as hard as we could (playing sports) and still lose. I've learned how to lose and not be a poor sport. I've learned how to win, too," she says with a smile.
Jongsma began playing soccer when she was four-years-old. She'd like children in Sunnyside to have the same opportunities to get involved. She'd like to have an impact on lowering the rates of child obesity should she be selected Miss Sunnyside.
The avenue to do that would be working with the Lower Valley Youth Soccer Association, she says.
"I chose this because I think all kids should have healthy food options and be the right weight. (When kids) are overweight, kids will bully them and pick on them. That's just not right," she says.
She wants to work with kids to increase their physical activity. "I'm hoping to get more kids involved in the soccer program and get more coaches involved so there would be more teams," she says.
Jongsma's particularly disappointed in the city's decision to eliminate the parks and recreation programs.
"I think it just makes kids not have any options to get out there and be physical," she says, adding that it hinders students entering high school because they won't have the proper skills set to compete at that level. "No one is taking the time to teach the kids the skills they need for sports."
Jongsma's hoping to make a dent in that and at least offer soccer programs for kids.
Jongsma, the daughter of Kristi and Jerry Jongsma, is sister to Ashley, 25, Jarred, 23, Matthew, 19 and Taylor, 13.
Her sponsors for the Miss Sunnyside pageant are The Diet Center and Jitters Espresso.