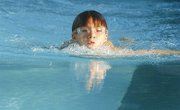 Winners of 50 of the 73 races staged last night, the Sunnyside Sharks notched a 530-259 victory over the visiting Grandview Neptunes.
Thursday's win improved Sunnyside's Mid-Valley Summer Swim League record to 7-1, 9-1 overall. The Neptunes fell to 1-9 overall on the season.
Grandview's strength last night surfaced in the boys 14&U events, as the Neptunes claimed victory in six of the seven races in that age division. Fabian Ruiz powered the Neptunes at 14&U, winning the 50-meter butterfly, breaststroke and freestyle events, as well as the 200-meter individual medley. Ruiz was second to Sunnyside's Tad Tyhuis in the 50-meter backstroke. Grandview also won both of the boys 14&U relay events.
The Neptunes, too, got three-victory performances from Micah Binfet at boys 12&U and from Ryan Contreras at boys 18&U. Scoring two wins apiece for Grandview were Spencer Blanshan at boys 18&U, Natalee Oxley at girls 10&U and Hailey Walker at girls 12&U.
Sunnyside made the biggest gain on the Neptunes in the 50-meter backstroke races. The Sharks won 11 of the 12 competitions, and claimed eight runner-up finishes in backstroke, as well.
As has been the case all season, the Broersma sisters again tallied up big points for the Sharks last night. Brittany (14&U), Marisa (16&U) and Kaitlyn (18&U) together laid claim to 13 individual race victories, worth 98 team points. The three Broersma sisters also swam on four winning relay squads, worth another 20 team points for the Sharks.
Another Shark who came through big against Grandview was boys 16&U swimmer Cristian Vargas. He won the 50-meter fly, breast and back races, as well as the 200-meter IM. In the one other individual race in that age bracket, the 50-free, Vargas was second to teammate Tim Stiteler by 1.12 seconds.
Grandview 259 - Sunnyside 530
200-Meter Medley Relay
Girls 10&U
1st-Sunnyside (A. Harrington, E. Banks, H. Perez, S. Salas) 3:44.12
Boys 10&U
1st-Sunnyside (B. Murphy, A. Diddens, J. Mendoza, A. Heffron) 3:43.93
Girls 12&U
1st-Sunnyside (names unavailable) 3:11.78
Boys 12&U
1st-Sunnyside (C. Murphy, A. Perez, M. Marquez, C. Martin) 3:30.34
Girls 14&U
1st-Sunnyside (B. Broersma, T. Van Corbach, A. Newhouse, M. Marquez) 2:43.31
Boys 14&U
1st-Grandview (E. Escobar, M. Wagner, F. Ruiz, J. Castilleja) 2:55.92
Girls 18&U
1st-Sunnyside (M. Broersma, M. Tyler, K. Broersma, A. Martin) 2:41.40
Boys 18&U
1st-Sunnyside (T. Stiteler, G. Stutesman, C. Vargas, J. Villegas) 2:30.75
50-Meter Butterfly
Girls 8&U
1st-Ashlee Maldonado (S) 58.50, 2nd-Allison Davis (S) 1:16.19, 3rd-Janessa Frank (S) 1:17.50, 4th-Kameron Rodriguez (S) 1:17.54
Boys 8&U
1st-Parker Van de Graaf (S) 1:12.18, 2nd-Johnny Heffron (S) 1:12.75, 3rd-Angel Morales (G) 1:33.47
Girls 10&U
1st-Magdalena Morales (G) 43.90, 2nd-Aydan Harrington (S) 49.12, 3rd-Natalee Oxley (G) 50.31, 4th-Emilee Maldonado (S) 54.85
Boys 10&U
1st-Adrian Heffron (S) 1:03.90, 2nd-Andrew Diddens (S) 1:04.65, 3rd-Tavian Valenzuela (G) 1:06.29, 4th-Maurice Prieto (G) 1:07.13
Girls 12&U
1st-Hailey Walker (G) 45.56, 2nd-Courtnie Cunningham (S) 45.91, 3rd-Katelyn Banks (S) 47.75, 4th-Tiana Perez (G) 48.24
Boys 12&U
1st-Alex Perez (S) 45.88, 2nd-Micah Binfet (G) 46.86, 3rd-Brendon Lynch-McGhan (G) 59.32, 4th-Mathew Marquez (S) 59.62
Girls 14&U
1st-Brittany Broersma (S) 38.53, 2nd-Alexandra Newhouse (S) 38.84, 3rd-Tara Van Corbach (S) 40.18, 4th-Madi Marquez (S) 42.56
Boys 14&U
1st-Fabian Ruiz (G) 34.89, 2nd-Jose Castilleja (G) 40.22, 3rd-Tad Tyhuis (S) 41.41, 4th-Eric Escobar (G) 45.27
Girls 16&U
1st-Marisa Broersma (S) 36.00, 2nd-Kristen Wedam (S) 39.18, 3rd-Jessica Hall (G) 43.63, 4th-Emily Hutchins (S) 48.97
Boys 16&U
1st-Cristian Vargas (S) 32.38, 2nd-Tim Stiteler (S) 37.03, 3rd-Grant Stutesman (S) 38.15, 4th-Dylan Graybeal (S) 41.44
Girls 18&U
1st-Kaitlyn Broersma (S) 35.25, 2nd-Megan Tyler (S) 43.34
Boys 18&U
1st-Ryan Contreras (G) 33.67, 2nd-Spencer Blanshan (G) 34.62
50-Meter Breaststroke
Girls 8&U
1st-Janessa Frank (S) 1:06.75, 2nd-Ashlee Maldonado (S) 1:08.62, 3rd-Arizona Rodriguez (S) 1:09.31, 4th-Allison Davis (S) 1:09.41
Boys 8&U
1st-Johnny Heffron (S) 58.41, 2nd-Nicolas Cortez (G) 1:16.87, 3rd-Luke Stutesman (S) 1:21.65
Girls 10&U
1st-Reagan Colson (G) 53.18, 2nd-Aydan Harrington (S) 53.71, 3rd-Natalee Oxley (G) 54.10, 4th-Kylie Colson (G) 59.28
Boys 10&U
1st-Tavian Valenzuela (G) 56.40, 2nd-Jacob Mendoza (S) 57.37, 3rd-Adrian Heffron (S) 58.64, 4th-Joey Fleming (G) 1:09.61
Girls 12&U
1st-Heidi Vergara (S) 49.93, 2nd-Kalie Bestebreur (S) 50.59, 3rd-Katelyn Hazzard (S) 51.56, 4th-Ashley Davis (S) 51.87
Boys 12&U
1st-Micah Binfet (G) 46.50, 2nd-Alex Perez (S) 56.13, 3rd-Brendon Lynch-McGhan (G) 56.37, 4th-Mathew Marquez (S) 56.59
Girls 14&U
1st-Brittany Broersma (S) 42.15, 2nd-Alexandra Newhouse (S) 45.78, 3rd-Tara Van Corbach (S) 47.15, 4th-Tawnya Francis (G) 47.50
Boys 14&U
1st-Fabian Ruiz (G) 43.76, 2nd-Jose Castilleja (G) 46.51, 3rd-Dameon Garza (G) 51.94, 4th-Tad Tyhuis (S) 55.91
Girls 16&U
1st-Marisa Broersma (S) 40.66, 2nd-Tiffany Owens (G) 46.22, 3rd-Alissa Martin (S) 48.06, 4th-Kristen Wedam (S) 52.81
Boys 16&U
1st-Cristian Vargas (S) 39.69, 2nd-Tim Stiteler (S) 43.32, 3rd-Grant Stutesman (S) 45.46, 4th-Dominic Garza (G) 51.03
Girls 18&U
1st-Kaitlyn Broersma (S) 39.50, 2nd-Megan Tyler (S) 48.68, 3rd-G. Gomez (G) 53.09
Boys 18&U
1st-Spencer Blanshan (G) 45.43, 2nd-Ryan Contreras (G) 47.90
50-Meter Backstroke
Girls 8&U
1st-Janessa Frank (S) 58.37, 2nd-Ashlee Maldonado (S) 1:05.50, 3rd-Jordan Colson (G) 1:07.75, 4th-Arizona Rodriguez (S) 1:14.82
Boys 8&U
1st-Parker Van de Graaf (S) 1:09.16, 2nd-Johnny Heffron (S) 1:22.54, 3rd-Angel Morales (G) 1:22.90, 4th-Luke Stutesman (S) 1:25.53
Girls 10&U
1st-Aydan Harrington (S) 50.19, 2nd-Natalee Oxley (G) 52.60, 3rd-Jolissa Mendoza (S) 55.68, 4th-Emily Banks (S) 56.58
Boys 10&U
1st-Bryce Murphy (S) 54.40, 2nd-Adrian Heffron (S) 57.09, 3rd-Patrick Zecchino (S) 59.21, 4th-Tavian Valenzuela (G) 1:00.92
Girls 12&U
1st-Katelyn Banks (S) 44.94, 2nd-Tiana Perez (G) 45.81, 3rd-Hailey Walker (G) 51.06, 4th-Aliyah Graham (G) 51.60
Boys 12&U
1st-Alex Perez (S) 53.53, 2nd-Christian Murphy (S) 54.43, 3rd-Micah Binfet (G) 54.93, 4th-Christpher Martin (S) 57.03
Girls 14&U
1st-Brittany Broersma (S) 40.56, 2nd-Madi Marquez (S) 42.87, 3rd-Samanta Castaneda (G) 46.98, 4th-Charley Beth Rollinger (S) 47.31
Boys 14&U
1st-Tad Tyhuis (S) 42.09, 2nd-Fabian Ruiz (G) 42.15, 3rd-Eric Escobar (G) 47.92, 4th-Ethan Partch (S) 49.31
Girls 16&U
1st-Marisa Broersma (S) 38.81, 2nd-Alissa Martin (S) 44.37, 3rd-Emily Hutchins (S) 46.94, 4th-Jessica Hall (G) 49.88
Boys 16&U
1st-Cristian Vargas (S) 36.28, 2nd-Tim Stiteler (S) 40.09, 3rd-Julian Villegas (S) 44.62, 4th-Grant Stutesman (S) 45.43
Girls 18&U
1st-Kaitlyn Broersma (S) 37.50, 2nd-Megan Tyler (S) 47.43
Boys 18&U
1st-Spencer Blanshan (G) 36.78, 2nd-Ryan Contreras (G) 37.55
50-Meter Freestyle
Girls 8&U
1st-Ashlee Maldonado (S) 54.59, 2nd-Janessa Frank (S) 54.71, 3rd-Allison Davis (S) 1:00.03, 4th-Emily Broersma (S) 1:00.93
Boys 8&U
1st-Johnny Heffron (S) 57.37, 2nd-Parker Van de Graaf (S) 59.32, 3rd-Angel Morales (G) 1:06.50, 4th-Nicolas Cortez (G) 1:33.82
Girls 10&U
1st-Natalee Oxley (G) 42.12, 2nd-Aydan Harrington (S) 42.15, 3rd-Emily Banks (S) 45.41, 4th-Emilee Maldonado (S) 45.81
Boys 10&U
1st-Adrian Heffron (S) 40.37, 2nd-Patrick Zecchino (S) 46.47, 3rd-Carlo Rodriguez (S) 48.56, 4th-Maurice Prieto (G) 48.96
Girls 12&U
1st-Hailey Walker (G) 37.52, 2nd-Tiana Perez (G) 38.73, 3rd-Katelyn Banks (S) 40.06, 4th-Ashley Davis (S) 41.87
Boys 12&U
1st-Micah Binfet (G) 37.70, 2nd-Alex Perez (S) 38.75, 3rd-Brendon Lynch-McGhan (G) 46.64, 4th-Christian Murphy (S) 47.50
Girls 14&U
1st-Brittany Broersma (S) 32.03, 2nd-Madi Marquez (S) 33.31, 3rd-Tara Van Corbach (S) 34.37, 4th-Alexandra Newhouse (S) 35.28
Boys 14&U
1st-Fabian Ruiz (G) 28.69, 2nd-Jose Castilleja (G) 31.89, 3rd-Tad Tyhuis (S) 35.68, 4th-Dameon Garza (G) 38.74
Girls 16&U
1st-Marisa Broersma (S) 32.18, 2nd-Alissa Martin (S) 35.93, 3rd-Kristen Wedam (S) 36.81, 4th-Tiffany Owens (G) 36.88
Boys 16&U
1st-Tim Stiteler (S) 30.34, 2nd-Cristian Vargas (S) 31.46, 3rd-Grant Stutesman (S) 33.00, 4th-Julian Villegas (S) 33.41
Girls 18&U
1st-Kaitlyn Broersma (S) 30.85, 2nd-G. Gomez (G) 35.53, 3rd-Megan Tyler (S) 36.00, 4th-Danielle Newhouse (S) 37.09
Boys 18&U
1st-Ryan Contreras (G) 30.32, 2nd-Spencer Blanshan (G) 30.85
200-Meter Freestyle Relay
Girls 10&U
1st-Sunnyside (E. Banks, J. Mendoza, S. Salas, A. Harrington) 3:14.19
Boys 10&U
1st-Grandview (W. Lakins, M. Prieto, T. Valenzuela, L. Valdez) 3:44.72
Girls 12&U
1st-Sunnyside (K. Bestebreur, J. Rodriguez, A. Stutesman, K. Banks) 2:57.00
Boys 12&U
1st-Grandview (A. Fleming, M. Binfet, O. Blanshan, B. Lynch-McGhan) 3:35.28
Girls 14&U
1st-Sunnyside (B. Broersma, M. Marquez, T. Van Corbach, A. Newhouse) 2:21.22
Boys 14&U
1st-Grandview (J. Castilleja, D. Garza, M. Wagner, F. Ruiz) 2:21.39
Girls 18&U
1st-Sunnyside (M. Broersma, K. Broersma, A. Martin, M. Tyler) 2:25.14
Boys 18&U
1st-Sunnyside (T. Stiteler, C. Vargas, J. Villegas, G. Stutesman) 2:13.59
200-Meter Individual Medley
Girls 10&U
1st-Natalee Oxley (G) 4:03.28, 2nd-Jolissa Mendoza (S) 4:16.44, 3rd-Emily Banks (S) 4:25.28, 4th-Emilee Maldonado (S) 4:33.71
Boys 10&U
1st-Adrian Heffron (S) 4:26.84, 2nd-Jacob Mendoza (S) 4:31.65, 3rd-Bryce Murphy (S) 4:47.53, 4th-Tavian Valenzuela (G) 4:48.17
Girls 12&U
1st-Katelyn Banks (S) 3:40.63, 2nd-Hailey Walker (G) 3:46.11, 3rd-Kalie Bestebreur (S) 4:00.75, 4th-Jordan Rodriguez (S) 4:01.25
Boys 12&U
1st-Micah Binfet (G) 3:53.29, 2nd-Christian Murphy (S) 4:12.09, 3rd-Brendon Lynch-McGhan (G) 4:18.90, 4th-Mathew Marquez (S) 4:32.72
Girls 14&U
1st-Madi Marquez (S) 3:24.03, 2nd-Tara Van Corbach (S) 3:35.53, 3rd-Tawnya Francis (G) 3:42.15, 4th-Samanta Castaneda (G) 3:49.40
Boys 14&U
1st-Fabian Ruiz (G) 3:21.03, 2nd-Tad Tyhuis (S) 3:25.16, 3rd-Dameon Garza (G) 4:21.84, 4th-Milagro Castilleja (G) 4:29.25
Girls 16&U
1st-Marisa Broersma (S) 3:03.00, 2nd-Kristen Wedam (S) 3:39.62, 3rd-Emily Hutchins (S) 3:49.15
Boys 16&U
1st-Cristian Vargas (S) 2:58.10
Boys 18&U
1st-Ryan Contreras (G) 3:23.62, 2nd-Spencer Blanshan (G) 3:31.00