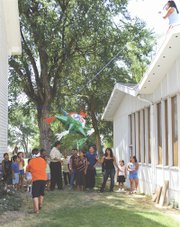 MABTON - Built in 1911, the Mabton United Methodist Church has experienced many ups and downs.
Building codes have changed and so has the population as the church has aged. With age, buildings like the historic church begin needing repairs.
Pastor Ruben Escaleda said it was a few months ago the church steps began to noticeably separate from the building.
He applied for a permit to repair the stairs, but was told, "Your building doesn't meet ADA (Americans with Disabilities Act) safety standards."
The county did stipulate the church could apply for a non-conforming permit if it met other safety standards.
But, the building would need a ramp for those with disabilities.
That's where volunteers from Tumwater, Benton City and Kennewick's United Methodist churches stepped in.
Tumwater's Bev McCullough, director of Vacation Bible School, said her church congregation first learned about the Mabton United Methodist Church in 2004.
At that time, a group of volunteers from her church was working in White Swan and had the opportunity to meet Escaleda.
The volunteers were apprised of a need in Mabton and a few traveled from White Swan to assist in repainting the Mabton church, as well as help with repairs to the roof on the building that now houses the Mabton Community Center.
Over the past five years a relationship between Tumwater and Mabton United Methodist churches has grown.
Escaleda was a guest speaker in Tumwater this past Christmas season and he spoke about hope for the community of Mabton and its youth, according to McCullough.
She said the message was inspiring and when her church congregation learned of the need for the Mabton church to install a new ramp for the handicapped, it began raising funds.
"Our primary reason for being here is for the kids...we are laying the foundation for the ramp, but only a third of what we raised is for that project. The rest of the money is for the Vacation Bible School," McCullough explained.
She said the Vacation Bible School is important to the youth in the community of Mabton. It provides those youngsters with activities and the message of God.
The ramp is necessary for the community's church, too, she said. It will provide members of the church with better accessibility to the building.
"They have been meeting in Feezell Park since May," McCullough explained.
Volunteers from her church laid the foundation for the new ramp last week.
Volunteers from Benton City and West Highland United Methodist churches will take over the project.
The Benton City group also has provided the community center with its own ramp for those with disabilities.
The volunteers from Benton City donated funds for both ramps and built the ramp at the community center for those residents who participate in the Meals on Wheels program there.
"We want to provide the community with the hope Pastor Escaleda spoke of," said McCullough.