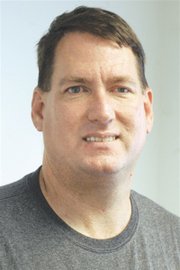 The Sunnyside Chamber of Commerce earlier this month named Gerald Roy as its new president.
Roy was selected to replace former president Jesse Hernandez Jr., who stepped down effective July 1.
"It just got to be too much," says Hernandez, a Sunnyside city councilman. "There were too many things going on. Council was taking up more time than anticipated."
Hernandez also says the move was about allowing more time with his family and for his business as an investment consultant.
Hernandez had served as president for two-and-a-half years and said his time in office was "very challenging and also very rewarding."
During his time in office, Hernandez said he was pleased the chamber was able to find stability in the executive director position.
"The chamber had gone through five directors in five years," he said. "My goal was to stop that process and stick with one person. I stuck with her (Pam Turner) and she's done an excellent job."
Hernandez also pointed to success during his tenure in increasing membership by about 30 percent each year.
Roy, a facility technician with the Port of Sunnyside, is no stranger to the Sunnyside Chamber of Commerce board.
For the past five years he has served as the port's representative to the board. Before his selection as president, Roy had served as the chamber board's vice president.
Roy said there won't be drastic changes in the Chamber of Commerce, but did note one of his goals will be to increase the number of volunteers from among the board's membership.
Another priority, Roy said, will be to finally wrap up work on the chamber's website.
"Our site is always under construction," he said. "We need links to our individual members." Roy said he plans to take a more direct role in making sure information is provided to the chamber's web designer.
Roy also wants the chamber to continue following Hernandez's lead in being pro-active about recruiting new members.
"Instead of waiting for people to want to join we can go out and ask them," he said.
Roy sees a need to not only make the chamber more visible in the Sunnyside community, but to have a greater presence in the region.
One way to accomplish that, he said, is through partnerships. He said the Tri-Chamber events with Prosser and Grandview are a start in that direction.
Roy envisions other partnerships as well, such as individual chamber members working together to offer a hotel/winery package, for example.
The chamber's Cinco de Mayo Festival and Lighted Farm Implement Parade events enjoy great popularity. Roy wants to see Sunshine Days also enjoy more success. "Rebuilding Sunshine Days is one of the things we're focusing on," he said.
Roy, who works on the committee for the chamber's annual banquet, wants to see some event take place in Sunnyside during the Fourth of July.
"We need something during the day to lead up to the fireworks," he said.
Hernandez appreciates Roy's vision for the chamber and for promoting the city of Sunnyside. He said he feels the office of president is in good hands with Roy.
"He's very capable," Hernandez said. "He's a real go-getter."