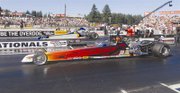 KENT - Michael Dalrymple of Sunnyside captured first place honors earlier this month in his category at the Northwest Nationals drag race at Kent.
Dalrymple has been racing for five years and his previous best finish at Nationals was reaching the quarterfinals two years ago.
The Sunnyside man survived seven rounds of qualifying at Kent to best a field of 67 competitors and claim the top spot in the Super Comp classification.
Dalrymple stopped by the Daily Sun News' office the other day, proudly displaying his "Wally," the trophy given to national winners in honor of Wally Parks, founder of the National Hot Rod Association.
What was the difference that put him over the top this year for the first time?
"I was luckier," he smiled.
It also helps that he raced with a different car this time around.
"My car was faster and I came from behind," he said.
Dalrymple said it "feels good" to win the championship in his classification. With the victory he is now ranked 36th in the nation in the Super Comp class.
A perk of racing at Northwest Nationals is that it attracts the fastest drag racers in the country, such as John Force, that finish the quarter-mile strip in just four seconds, about 300 miles per hour.
Dalrymple, whose fastest time is 179 miles per hour, said it was a rush to witness the pro drivers and their dragsters at work.
"You're sitting in the stands and your chest starts shaking," he said of the racers in action.
Dalrymple next heads to Acton, Mont. for a regional event. Dalrymple won the Super Comp class at the competition last year.
Winning races is nothing new for the Dalrymple family, as his father, John, won nationals in 2006 in the Super Street class.
John Dalrymple lost in the third round of Nationals this year but earned the "best engineered" car award.
The Dalrymples are part of the Johnny B. Good racing team.