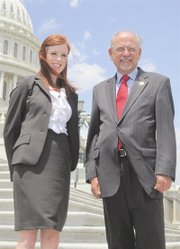 WASHINGTON D.C. -
Fourth District Congressman Doc Hastings (R-Pasco) recently announced that Sunnyside native Juliana Erickson is serving as a summer intern in his Washington, D.C. office.
"Juliana is working hard this summer on behalf of Central Washington residents, and we are enjoying having her work in the office" said Hastings. "She shows a real dedication to the task at hand, seeking out new and better ways to communicate with local residents, and always striving to learn more about Congress and federal policymaking."
Erickson, a native of Sunnyside, is the daughter of Steven Erickson and Karen Van de Graaf -Erickson.
Currently enrolled at the University of Washington and majoring in English and Political Science, Erickson is expected to graduate in June of 2010. In her free time Erickson enjoys skiing, golfing, running, playing the piano and traveling.
Erickson has long had an interest in politics and has wanted to work in the public sector to give back to her local community on a national level.
She says she chose an internship with Congressman Hastings because of his common sense traditional values and well-respected strong work ethic, and so that she could learn about the inner workings of the legislative process.
In her role as an intern in Hastings' Washington, D.C. office, Erickson assists with constituent relations, attends congressional briefings and committee hearings, conducts legislative research and assists with clerical duties.