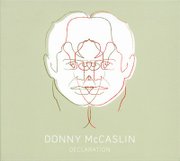 Give me Broadway dancers and a stage and good choreography to accompany Donny McCaslin and his fellow musicians...and you will have the makings of great entertainment.
McCaslin's saxophone takes center stage in the music on his latest CD, "Declaration," but allows other instruments to shine as well.
Lively tunes like "Fat Cat" move and swing. The pieces take unexpected turns, playing out an unseen drama for the mind to venture and visualize.
With these compilations, a great drama producer could fly with creativity. That is what music is meant to do...inspire its listeners, taking them on a journey.
McCaslin himself said he ventured into unknown territory with this CD, writing and composing the music for a brass group.
There are eight tracks on "Declaration," and each is like a scene from a great play, if the listener can imagine it.
Also featured on the release are musicians Ben Monder, Scott Colley, Ed Simon, Antonio Sanchez and Pernell Saturnino. The horn ensemble of Alex "Sasha" Sipiagin, Tatum Greenblatt, Chris Komer, Marshall Gilkes and Marcus Rojas is featured, as well.
"Declaration" is McCaslin's third CD with Sunnyside Communications, Inc.
The California native and his sax cement his raw talent in the jazz world as first class with this release.
McCaslin has released and been featured on 10 other CDs, including Danilo Perez's "Til Then."
More information about McCaslin and how to purchase his music can be found on the web at www.donnymccaslin.com.
More like this story