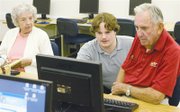 GRANDVIEW - A senior teaching seniors. That's what Grandview High School senior Tolan Barrett is doing for his high school senior project, teaching the secrets of the internet to senior citizens.
The four-day, two-hour class ends today, Thursday. Barrett has been teaching since Monday.
"There aren't many classes that focus on just teaching senior citizens," Barrett said. "It's an untapped part of our community."
Barrett is teaching his class more than just how to surf the internet, he's teaching them how to navigate it. The senior citizens have learned how to wade through a couple of websites like Wikipedia and eBay. Besides learning about those websites the senior citizens also learned how internet explorer works, how to use the keyboard and how to use the mouse properly. Barrett also reviewed viruses and how the class might be able to avoid them.
"Just simple things," Barrett said. "Not how to build a website."
Barrett has been learning about computers since 2001 and likes to spend his free time tinkering around with them at home. He also learned something teaching this class.
"I learned how to interact with others," he said. "If I decide to become a teacher I'll have some idea of what it takes to teach a class."
The 12 students in the free class don't have to worry about tests, since Barrett felt that might discourage them from coming back to future classes.
The senior citizens appreciated Barrett's efforts and Rudy Cortez, a class member, said he definitely learned some stuff, as did others.
"This young fellow has done a pretty good job," Bob Smith, one of Barrett's students, said.