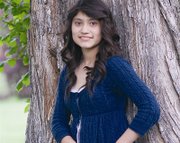 Joscelyn Martinez relishes nothing more than a good challenge. That's why the 16-year-old Sunnyside High School student has tossed her hat into the Miss Sunnyside Pageant ring.
It's no surprise, then, that the talent she'll perform at the pageant in September is something altogether new to her.
"I wanted to challenge myself a little, so I chose to sing in French," she says. "I thought it'd be unique. Usually (candidates) sing in English or Spanish, so I thought I'd be different." The song she'll sing is "Part of Your World" from Disney's The Little Mermaid, a favorite movie of Martinez's when she was growing up.
Martinez has a tendency to get nervous at inconvenient times. "There are times I can speak clearly (in front of people) and times where I get nervous and can't speak at all," she says. One way to overcome the jitters is to serve on the Miss Sunnyside court.
When Martinez was in middle school, she competed in National America Miss. There, she had the chance to participate in an optional acting competition. Little did she know, those associated with the pageant would later recommend her for acting school in Seattle. When she got accepted into the school, the sometimes nervous SHS student says, "It was exciting...it's really a learning experience. You have to be 'out there' to get into classes."
Of the acting bug, she says, "I always wanted to be in plays but didn't know how." When the opportunity in Seattle arose, she says, "I thought 'Oh, I totally have to do this.' It just clicked with me."
Sometime later this year, she'll have the opportunity to audition for an agent.
Martinez hasn't yet joined the drama club at school, as she prefers soccer over extra-curricular activities. She does, however, enjoy elective drama classes.
"I like doing everything. I don't like just sticking to one thing," she says.
Martinez, the daughter of Herbert and Elena Martinez, is big sister to Kayla, 12, Natalie, 10, and Brandon, 2.
"I have a lot of responsibilities, including being a role model to my siblings," she says, adding that her role as big sister influences a lot of her decision making.
Should she be selected to serve as Miss Sunnyside, Martinez wants to work with Sunnyside's Promise as her community service project.
"I chose this project because it's a very successful program in helping the youth of Sunnyside," she says, adding that bettering the community is one of her top priorities. And, she adds, "I've noticed how much of an impact Sunnyside's Promise has been on the community and I want to be a part of that."
In particular, she's noticed the organization's anti-gang activities. "I've seen in the news how they want to reduce gangs and drugs here in Sunnyside. I want to help kids and especially keep kids from gangs. It's a priority of mine."
Following her high school career, Martinez will surprisingly not pursue acting, but would like to take on law school, with a focus on corporate law.
Martinez's sponsors for the pageant are Nate Bridges and her father, Herbert Martinez.