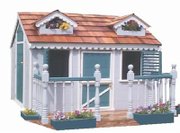 YAKIMA - The signature event for Enterprise for Progress In the Community (EPIC), Playhouses on Parade, is returning for its seventh season. This year's event is being kicked off August 1 at the Vintiques Car Show held at State Fair Park in Yakima, where one of the playhouses will be on display. There will be a playhouse at several community events over the course of the next two months.
This year's playhouses will make a delightful addition to anyone's back yard; there is the Beach Cottage, the Summer Cottage, the Cape Cod Cottage and the Gingerbread Cottage. Raffle tickets are $2 each and can be purchased at the Playhouses on Parade kiosk at the Valley Mall in Union Gap, at any EPIC location and at many other community events during August and September. Tickets can also be ordered on EPIC's website; www.epicnet.org. The raffle drawing will be held Oct. 10, at 3 p.m., at the Valley Mall, with the chance to win one of the playhouses on the line.
Playhouses on Parade supports EPIC's mission to work hand in hand with children, youth and families to strengthen the community. This fundraiser benefits EPIC's Early Childhood Education programs, EPIC's Youth Services Residential & Runaway Centers, and EPIC's Family Support Services MTCC and Crisis Nursery programs.