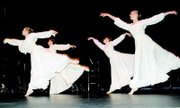 Local Christians converged at the Sunnyside High School auditorium yesterday, Sunday, to celebrate Global Day of Prayer.
According to Master of Ceremonies Roberto Matus, this was the first community gathering for Sunnyside; 220 countries of the world were celebrating the day of prayer, which took place in conjunction with the Pentecost. Matus noted that last year, 11 community churches each held their own individual day of prayer events. Yesterday, 16 churches were represented, with participants from Toppenish, too.
Those gathered were encouraged to pray for the next 90 days and were given a green card with instructions for the next three months.
The theme for the month of June is pray while driving. "As you go about your daily lives, specifically pray for the territory surrounding each valley and city road upon which you drive," the card reads.
For July, Christians are encouraged to picnic and pray, specifically to host a picnic for friends and neighbors, and pray for joy in the valley and its cities.
In August, it's "work and pray" month. Christian employees are encouraged to pray for fruitfulness and prosperity with co-workers.
On Aug. 30, groups will gather at specific points and entrances into the valley to "tent the valley" with symbolic canopies of prayer.
The celebration for answers to the prayers is slated for Aug. 30 at the Grandview fairgrounds at 6 p.m.