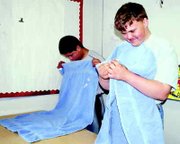 Every student at Sunnyside High High School is provided the opportunity to learn skills to become productive members of the community, including students with learning disabilities.
Through the efforts of teachers Tim Bruno and Maria Brambila, as well as paraeducators Tim Warner, Michelle Hutson, Maribel Rodriguez and Karen Roberts, students in the high school with learning disabilities are learning job skills.
"It's been a work in progress, gaining the support of community businesses and their managers," said Brambila.
The hard work has paid off, however. She and her fellow educators have gained the participation of Sunnyside's Safeway, Hillcrest Manor, Dollar Tree and Provident Horizon for the purpose of providing youngsters with on-the-job training. Several churches, Sunnyside Community Hospital and the Washington State Migrant Council have provided opportunities for the youth, as well.
Brambila said the students first express an interest in the type of work they would like to do. She finds an employer willing to help those students, and once that is accomplished, a paraeducator accompanies the student to the business.
She said the paraeducators provide students with support and guidance as they learn new job skills. As the students become more proficient and can perform duties independently, they also learn to become more dependent on their individual managers for instruction and questions regarding the job "...just like in any other job setting," said Brambila.
The students also learn to go to work with less supervision.
"Since starting this program, students have become more self-assured, more independent and extroverted," said Brambila.
"Job skills training makes students better prepared to live and work independently upon graduation," Brambila went on.
Bruno added, "Every (SHS) student has a transition plan that is required by the state as part of his or her individualized education program."
He said the "self-contained" educators try to integrate real world knowledge and training to help the students with learning disabilities become more self-confident and independent to become productive citizens.
The students visit their work sites twice a week and spend time in the classroom, learning to fill out job applications. They also develop a resume and cover letter within the classroom environment, as well as learn about work schedules and other related topics.
The success of each student means success in life. A few of the students taught by Brambila and Bruno have received recognition for their newfound abilities and overall performance. Those students' employers have proposed a possible permanent position with the businesses.
Brambila said all of this is possible because of a team effort between the students, the educators, the school district and the businesses involved.
"The success of this program would not be feasible if it weren't for their support," she stated.