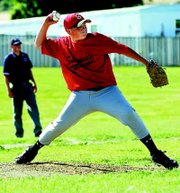 Sunnyside hosted its first Cal Ripken baseball tournament this past weekend, as seven teams from around the valley turned out for the event, held at the ballfields at South Hill Park.
The competition got underway Friday and didn't wrap up until Sunday afternoon.
The seven participating teams were from Toppenish Grandview, Sunnyside, as well as two teams each from Prosser and Zillah.
By the time the diamond dust cleared after a weekend of action, the Zillah Orange squad claimed the tourney title with a 10-2 victory Sunday afternoon in the championship game over Grandview.
Speaking of Grandview, that team and the one from Sunnyside didn't disappoint in the on-going sports rivalry between the two cities.
Sunnyside won its first round game over the Prosser Red team 3-2, keyed by a game-winning RBI off the bat of Diego Salas. Meanwhile, Grandview after losing its opener 6-4 to Zillah Black, rallied for a 14-2 consolation round win over Toppenish.
That put Grandview and Sunnyside into a quarterfinal game on Saturday against each other, with Sunnyside prevailing 5-4.
The two teams met again Sunday in the consolation finale to decide who would play Zillah Orange in the championship tilt. It was Grandview getting the upper hand the second time around, defeating Sunnyside 7-5.
Dave Martinez was one of the organizers of the event, and said the first-time effort was a win for the families, Cal Ripken baseball and for the city of Sunnyside.
"It was a lot of fun," he said. "It was a fun experience for the kids and neat for the city." Martinez figures it has been at least since 1996 that Sunnyside hosted a tourney for the Cal Ripken 11-12 year-old teams.
The tourney held this past weekend saw some notable individual efforts, Martinez noted. For Sunnyside, the trio of Jacob Palomarez, Timmy Martinez and Damon Hurst handled pitching chores throughout the weekend. Sunnyside also received great defensive play from Luke Wavrin, Martinez said.
He noted that Grandview was led by Jared McMillian. "He had an outstanding tournament pitching and on defense," said Martinez.
The champion Zillah Orange team received a trophy and t-shirts for their honor, and runner-up Grandview was recognized with a trophy baseball.