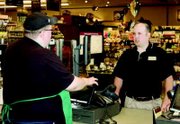 Matt Fabbri has joined the staff at the Sunnyside Safeway, where he now serves as store manager.
Joining the staff required a move from Chehalis. Fabbri has worked for Safeway for 13 years, but this is his first stint on this side of the mountains.
"I worked at pretty much every store in the Olympia district," Fabbri said. "But this is the first time we've actually picked up and moved."
Fabbri and his family, wife Crystalyn, daughter Taylor and sons Blake, Cole and Walker, are in the process of relocating to Kennewick. "We have family there," explained Fabbri.
While most would find the commute from Kennewick daunting, Fabbri said it's actually the shortest commute he's ever had.
Fabbri, who started the job in late April, said that he's found the community to be quite welcoming and friendly. He's also impressed with the weather, though he's yet to experience a true Yakima Valley heat wave. That's OK, though. "I don't miss the rain."
He said his family's happy about the relocation. He and his sons enjoy fishing and hunting. His daughter's excited about the move, too, though it's tough to leave her friends at middle school.
This is Fabbri's first stint as a store manager. In Chehalis, he worked as an assistant manager. Before that, he said of his work with the company, "You name it, I did it."
His goals for the Sunnyside store include more community involvement. And, he added, "Obviously, increasing sales!"