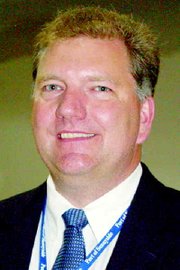 The merry-go-round that is Sunnyside city government took a sharp turn in the past 24 hours, as last night the city council fired City Manager Eric Swansen, who had been on the job for less than a year.
Tuesday night's decision was not unanimous, as Mayor Paul Garcia and Councilman Tom Gehlen both voted no on the move to fire Swansen.
Garcia said he voted against it because he felt the stated reason for the firing, a poor performance review, is something that council should work with Swansen on since he has been at the post for such a short while.
The final decision was a 4-2 vote for firing Swansen. Councilman Bill Gant was excused from last night's specially called meeting for a family emergency.
Mayor pro tem Jim Restucci made the motions to fire Swansen and to suspend him from city manager duties effective as of midnight this morning. Swansen has 30 days to request a public hearing to review the firing. His contract calls for him to receive six months in severance pay.
"Council feels he's not the one," Restucci said later. "He doesn't fit." Restucci said most of the evaluations of Swansen's performance conducted by staff and council came back with low marks in 12 different categories. "The majority rules," he said.
The firing came as a shock, said Swansen, who just over a month ago moved into a home he purchased in Sunnyside. "I just made my first mortgage payment," he said later.
Resignations follow
There were aftershocks from council's sudden move, as City Attorney Mark Kunkler, who doubles as assistant city manager, resigned on the spot Tuesday night after the firing. This morning Finance Director Jordan Arreola tendered her resignation.
Kunkler, who has been with the city for 17 years, said in a resignation letter he disagreed with the way the city handled the performance review process.
In a letter to the city submitted this morning, Arreola said she is resigning "in lieu of termination." She said council's action in firing Swansen "has resulted in a shift in the city's values."
Arreola also disclosed a letter she received from Swansen after last night's firing, in which he asked for Arreola's resignation.
The stated reason is that Swansen said it was brought to his attention that he "was not a good fit for the community." In turn, he identified Arreola as one of those employees he feels would not be a good fit, either.
"I don't know where that comes from," Garcia said. "She's a valuable asset to the city; she's provided us some solid information.
After firing Swansen, council also approved Public Works Director Jim Bridges as interim city manager. Gehlen and Garcia were again the lone no votes in making that appointment.
Firing takes place amidst city hall investigation
The firing comes against a back drop of a third-party investigation that is now underway regarding a hostile work environment charge alleged during a recent deposition. Swansen said the investigation is not yet completed.
The deposition by a female employee was received recently during an ongoing court case involving the firing of former city clerical assistant Jamie Alba.
Swansen said he was never told of such a situation, and last night expressed concern that he was not informed of the allegation involving city employees.
He also said there have been times when staff members have approached city council members with issues instead of expressing them to him.
Alba was fired by then City Manager Bob Stockwell because of an alleged personal relationship with Bridges. Stockwell also fired Bridges - now Sunnyside's interim city manager - but reduced it to a suspension when Bridges admitted to the relationship.
Swansen said the combination of an air of mistrust by city staff and council, as well as the ongoing drama with the Alba case contributed to his downfall, much as it had Stockwell's.
Garcia said there were no references in the staff reviews of Swansen of either the Alba case or the allegation of a hostile work environment. He said there had been some personnel issues that council felt Swansen could have handled in a more timely fashion.
Swansen defends record
Reflecting on his brief stint at Sunnyside City Hall, Swansen said there have been positives that have taken place, such as working relationships with Prosser and Grandview, as well as working with Transformation Sunnyside and Sunnyside's Promise.
As to council's allegation that he did not communicate enough with council members, Swansen said there is a difference between individual council members asking for information and asking for staff to create documentation.
Swansen said if council "as a body" were to ask him to research or create documentation on an issue he would respond.
But when individual council members e-mailed him to do this or that, he declined, stating that otherwise all he would get done in a work day is responding to individual council member e-mail.
One of the hot button issues during Swansen's tenure, stormwater fees, is something that council actually bought into from the get-go, having full knowledge of the impacts the fee structure would create, he said. "I was actually praised by council for the work done on the stormwater fees," Swansen said of the fee schedule's initial passage.
Looking ahead, Swansen said his priorities will be fixing up the house he and his wife bought and try to sell it. He is also mulling the possibility of seeking a public hearing regarding his dismissal.
Still stunned an hour after the two-hour executive session that led to his firing, Swansen reflected, "One day you have a job and the next day you don't."
City looks to transition
So where does Sunnyside go from here with no city manager, no city attorney and no finance director?
"That's the million dollar question," said Garcia. "The city is in a delicate situation right now. Those (finance director, city manager, city attorney) are three key components in city managing."
For now, Garcia said Kunkler and Arreola have agreed to help with some of the transition process.
But the bottom line is that after the firing, council now has some hiring to do.
"It's really going to put pressure on council to start addressing this situation immediately," Garcia said. "We need to get replacements in here."