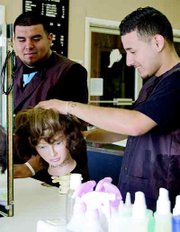 Albert Medina, Oscar Bustamante, Alvaro Vargas and Adrian Jasso are just typical guys. Some of them sport tattoos, body piercings, enjoy basketball, fishing and hunting, and, of course, partying.
But they're not typical beauty school students.
The four young men are students at the Professional Beauty School in Sunnyside, despite the fact that three of them aspire to be barbers.
Medina, Bustamante and Jasso would eventually like to open up a barber shop in Grandview. Vargas aspires to style men and women's hair.
But first, they must make it through a year of classes at the school.
Most of the men have been cutting hair since middle school. And they found they were good at it.
"A lot of people told me I was good, that I made people look good," said Bustamante. Medina echoed the same sentiment. Jasso said he started in the eighth grade and just kept practicing. He was also quick to note working on hair is something he enjoys.
"I'd rather have a job of doing something I like than not," he said.
For Vargas, cutting hair is a family affair. His aunt works at Catalina's in Sunnyside and he's also related to the owner of Mystique Salon in Grandview. His cousin's even an instructor at the school.
"My family, they all inspired me to come," said Vargas of his stint at beauty school. "They told me if it's something I want to do, I might as well do it, so I did."
There are many things the four have to learn at the school, aside from hair care. They're also learning how to do manicures and pedicures.
Jasso said, "It's easy but....it's girly." Bustamante agreed and said, "It feels weird."
The four said that female clients who visit the school, which also serves as a salon, are very wary of them.
"They ask how long you've been here and if you know everything," said Jasso.
The four students have a way to go before they graduate. In the meantime, they'll endure the manicures and pedicures as they absorb knowledge about hair care and how to be barbers.
Simply put, said Vargas, "You have to have a passion to do it."