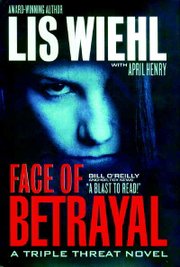 What do a 17-year-old U.S. Senate page, a TV news reporter and a prosecuting attorney have in common?
Plenty in the pages of Face of Betrayal, a new mystery novel by Fox News legal analyst and former federal prosecutor Lisa Wiehl.
The book was written with April Henry, who has penned seven mystery thrillers. She lives in Portland, Ore.
Since Portland serves as the setting for Face of Betrayal, it makes one wonder how much of the book the well-known cable analyst Wiehl actually wrote.
But that's a digression.
The book itself is a page-turner, as prosecuting attorney Allison Pierce joins an effort to find a 17-year-old Senate page who went missing while she was home with her parents for a visit in Portland.
Pierce and her lifelong friends Nicole Hedges, an FBI special agent, and Cassidy Shaw, a local Portland TV news reporter, begin to realize that the young page has not run away from home as initially believed.
Thanks to a blog the 17-year-old girl kept, the three begin to piece together that the girl has gone missing because she was kidnapped.
What ensues is a race to find the girl in hopes of locating her while she is still alive. At the same time, the three friends begin to realize there are enemies afoot trying to stop them.
Allison, for example, finds a vile threat of personal harm left on her windshield, after successfully prosecuting a case and sending the defendant to prison.
Intrigue is also at play as the three friends begin to wonder if a U.S. Senator may be involved in the case of the missing 17-year-old page.
The story moves quickly, with short chapters. Each chapter has a date and location to literally keep the reader in the know as to where they are in the story.
The three friends call themselves The Triple Threat after their favorite dessert.
In Face of Betrayal all three are in one way or another connected to the case via their jobs as prosecutor, reporter and FBI special agent.
There are a few bones to pick with Face of Betrayal. Some of the descriptive writing is clumsy, as in girls at a service for the missing teen "stood in clumps."
Another time, the father of the missing girl is described as having eyes that "swam, wet and reddened."
There is also a plot device that doesn't quite add up. Nicole finds the girl's laptop under some clutter three days after the teen went missing - and it was still on and working.
I can only surmise that it must have been some kind of miraculous long-lasting laptop battery that kept going and going and....you get the picture.
Those distractions aside, Face of Betrayal is an entertaining read.
Given that the book's small-print subtitle on the cover says "A Triple Threat Novel," it appears this is just the first in a series of mystery thrillers for Wiehl and Henry.
Here's looking forward to seconds from the The Triple Threat gang.