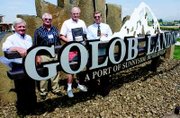 After 10 long years, the Port of Sunnyside's East Edison Avenue industrial/business park finally has a name: Golob's Landing.
Golob's Landing is named after Dick Golob, who sold the property to the port in 1999 for $12,000 per acre.
That's according to the port's executive director Amber Hansen, who said the park consists of 106 acres.
"(Dick Golob) worked tirelessly to form the port commission prior to 1964," Hansen said, adding that when voters approved the port commission, they had to vote for those running for port commission posts at the same time. Golob was a candidate, and ultimately served for 25 years. "He was a farmer, too," she added.
Of the park Hansen said, "This has been a 10-year vision that is coming to fruition for us."
In 2002, the port sold the first piece of property to Bovine Herd Health for development. At that same time, the port also began developing Barnard Boulevard and the Horizon building. "We had occupancy in that building by January 2003.
"(Also) in 2003, we committed to planned unit developing," explained Hansen, adding that it was intended for mixed businesses and industrial uses.
In 2006, the master plan was complete. "That gave us the meat and potatoes to really go out for funding sources in that it told us the number of jobs it would create, the prices we could expect to sell the land for. And that was based on the various types of development."
In 2007, Hansen said, "We went for funding to put in the roads, water, sewer and sidewalks on the south side of the development, which is phase one. The port was able to build the sidewalk along East Edison and also two roads."
Hansen said lighter industries will be located on the south side of the park and heavier industry on the north side.
Soon, a medical clinic will open on the site, as will BlueLine Manufacturing. Eventually, the Sunnyside School District's transportation barn will be located there, too.
Hansen added, "We've been working on it for 10 years. Everything is planned. If a large, heavy industry wanted to purchase property on the north end, all we would need to do is put the final touches on engineering and go to bid. It's all designed."
More like this story