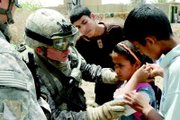 BALAD, IRAQ - The streets are bustling with families returning from the date fields, some piled into pickup trucks and sharing the road with the neighborhood cows; all making their way through the village traffic. The sounds of children playing and vehicle horns are heard in all directions. The aroma of cooking lamb mixed with car exhaust filled the early afternoon air.
Suddenly, the village was overcome with a different sound. The sounds of coalition convoys fast approaching. As quickly as the convoy came, so did Iraqi children. The children ran with the same anticipation an American child would to greet the neighborhood ice cream truck. The Air Force's 532nd Expeditionary Security Forces Squadron "Lion" patrol with their 1st Battalion, 161st Infantry Regiment "Highlander" combat medics had arrived.
"The war has changed," says Army Staff Sgt. Gregg O. Hutchinson of Sunnyside. Hutchinson, a 1st Bn., 161st Inf. Regt., combat medic, dismounted his vehicle when the inevitable summons came, "Get Doc up here!" The call was for an injured Iraqi girl.
Hutchinson, also referred to as "Hutch," was met by several Iraqi children holding an injured girl. Hutch reached into his medic bag, containing every conceivable first aid item, in anticipation of an event like this. Hutch treated the infected area, bandaged it, and gave the girl's older brother a tube of antibiotic cream with treatment instructions.
He was approached by another child, and then another and another. This was repeated throughout the afternoon, and Hutch continued to take away the pain and replace it with a smile on the kids' faces.
The 532nd ESFS is responsible for perimeter security around surrounding Joint Base Balad and continuing an established relationship with the local citizens of the villages and farms.
Hutchinson explained, "In 2004, we set up in a school or vacant lot and did what we could with what we had. Today, we are supposed to step back and let the Iraqis take over. But, in many cases, they still don't have the resources available to take care of the people. So, we try to assist in any small way we are able to."
Hutchinson, a veteran of Operation Iraqi Freedom II and a certified paramedic with the Sunnyside Fire Department, said, "We see very small villages around JBB, as compared to Baghdad. It seems the people who live in these villages live hand to mouth on a daily basis. We may be the only medical provider they will ever see while we are on patrol. It's the greatest job I have ever had in the military. We treat medical conditions that we would never see back home or even when treating soldiers here at JBB."
Sgt. 1st Class Chad B. Bennett of Rathdrum, Idaho, and chief medical non-commissioned officer in 1st Bn., 161st Inf. Regt., explained how they became involved with the project.
"We went to a medical conference in December and got to know many of the key people in the OIF medical community. A doctor in Baghdad with the Provincial Reconstruction Team mentioned the Air Force's mission around JBB and their need for medics. We contacted the 532nd ESFS and they said they would love to have us," Bennett said.
"We have executed over 150 missions since the beginning of April and our medics have treated over a hundred Iraqi patients. This mission gives us the opportunity to reach out to the Iraqi community," said Sgt. Robert P. Mulrooney of Bellingham, Wa. "Often times, the villagers are turned away at the local hospital. So, we treat them on the scene. If it's more than we can provide, we do our best to coordinate with 532nd physician's assistant, Air Force Capt. Laura J. Dart of Offutt, Neb., to recommend a higher level to the nearest civilian hospital."
Dart, chief medical officer with the 532nd ESFS, said, "Our primary mission is security. The outside patrols conduct missions for terrain denial, making our presence known to insurgents and others who mean us harm."
"The patrol members visit with local residents and find out how their community is functioning. Along the way, we are able to render care to the people we encounter," she said. "Our Army combat medics have seen countless numbers of injuries. The medics' high level of medical knowledge combined with their vast experience with patrols and convoys outside the wire make them an immeasurable asset."
"Many times, we see the same people and treat them with an ongoing injury," said Spc. Bradley V. Peters of Sunnyside.
"This allows us as soldiers to build relationships and it makes the people feel we are not here to harass them, but to help them and let them know we actually care," Peters continued.
"With the work that we do, the insurgents may think twice about attacking us if we can provide medical care for their children. It may make that decision that much harder," Peters added.
In three months, Peters and the airmen of the 532nd continually checked-up on a four-year-old Iraqi girl who was victim of severe oil burns from a kitchen fire. The Highlander medics and the 532nd ESFS frequently visited with supplies, clothes and medicine to ensure the girl is properly healing.
"The burn is almost completely healed and looks a thousand times better than it did when we first saw it," said Spc. Ryan C. Smith of Richland. "We try to see her as often as we can."
"It's more fulfilling to be out with the Iraqi people." said Mulrooney. "We have a great impact on the Iraqi people with this mission and I think we have opened their minds on who we are as American soldiers."
"I couldn't think of anything better I could be doing with my life right now. It truly feels like we have made a difference here," said Peters.