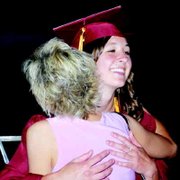 GRANDVIEW - The Grandview Church of the Nazarene filled with family and friends congratulating Sunnyside Christian High School's 15 members of the class of 2009 last Friday.
The class verse from Deuteronomy 31:6 was chosen by the class to provide the graduates with inspiration as they venture beyond high school.
"Be strong and courageous. Do not be afraid or terrified of them, for the Lord your God goes with you; He will never leave you nor forsake you," reads the verse.
That message carried throughout the commencement exercises as Erika DenHoed, co-valedictorian, and Trudy Long, teacher at Sunnyside Christian Elementary School, addressed the class.
DenHoed reminded the class of a lesson taught often by Principal Dean Wagenaar, "It's all about our world view."
Sharing the story surrounding the class verse, she said God placed each member of the Sunnyside Christian High School class of 2009 in each other's lives for a reason. He has offered each member of the class prosperity.
DenHoed advised her fellow graduates to take comfort in the class verse because although they may not know who they will become, they each know where they come from. Because of that, she said the graduates do not need to be afraid, "...God goes with us."
Long, too, drew from the verse after sharing with those gathered to celebrate the end of the class of 2009's high school education that the students were her first class at Sunnyside Christian Elementary School.
"They will always be my babies," she said.
Long compared the class to the Israelites in the Bible story surrounding Deuteronomy 31:6. She said the Israelites were leaving Moses behind and Joshua was to be their new leader. The class of 2009 left high school behind to venture into a new world, crossing their own River Jordan.
"You are entering into your promised land," she said. "Take your Lord God with you."
Co-valedictorian Melanie Van Wingerden spoke too. She reminded her classmates they had been provided a strong foundation in the education they have received and told those gathered it is her hope the graduates will draw upon that foundation as they venture into the future.
Several of the graduates received scholarships and awards before Wagenaar presented each individual with their diplomas. During the presentation, he shared a little about each individual, including a favorite Bible verse and philosophy about life.
Cheers erupted as the Sunnyside Christian High School class of 2009 turned their tassels, marking the beginning of their lives beyond high school.