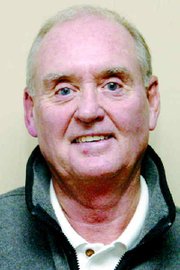 Sunnyside City Councilman Bill Gant resigned his post at last night's council meeting, wearing a suit and tie to hand deliver his resignation letter to Mayor Paul Garcia.
Gant sat in the audience Monday night while the letter was read. In it, he wrote the "events of the past two weeks have made it apparent that I am not in agreement with council."
Gant, a former Sunnyside High School principal, later said City Manager Eric Swansen's firing after 11 months on the job was the quickest he had seen in his 45 years in working with boards and commissions.
He said the firing was the "last straw" and prompted his decision to resign in protest.
"I never saw someone go on the strength of one performance evaluation," he said of Swansen's firing last week.
Gant had missed three previous council meetings - including the one last Tuesday that ousted Swansen by a vote of 4 to 2 - due to a family emergency.
Gant participated in the performance review of Swansen, giving him high marks.
He contends that some council members had it arranged prior to the evaluation that Swansen would be fired.
"It was pre-determined," Gant said. "They didn't want him around."
He says he is now turning his sights to the primary and general elections later this year.
"What I plan to do now is work politically for some candidates who are opposing those who fired Swansen," Gant said.
The council members he plans to rally against are Carol Stone, Jesse Hernandez Jr., and Theresa Hancock. Mayor pro tem Jim Restucci also cast a vote to fire Swansen but his position is not on the ballot this fall.
At the end of last night's meeting, council agreed to name Nick Paulakis to Gant's post, since Paulakis is running unopposed for the seat.